Wall paints, wall decorations and co. - This is how you design your wall in the living room

The living room is the center of every home – this is where life takes place. The wall design in the living room is an important decision. Say goodbye to boring white walls and hello to a change of scenery! But what wall design options do you have? We'll show you how to get the most out of your four walls with paint and wallpaper, wall decoration and wall lights. Here we go!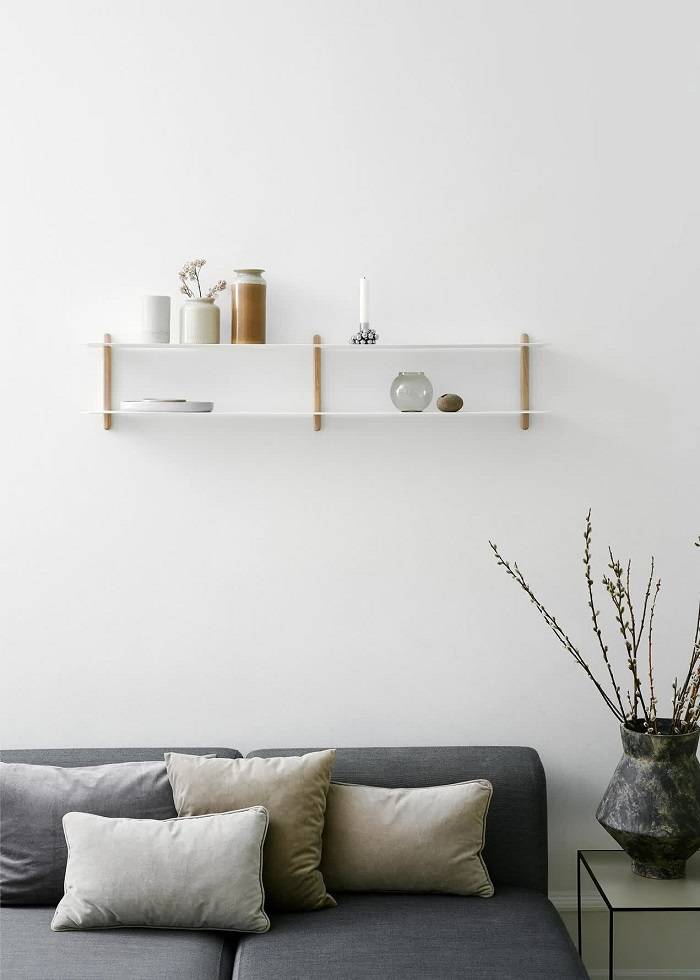 Optimal wall design with the right wall colors

Above all, consider your personal taste, your furnishing style and the lighting conditions when you decide on a color for your living room wall. The color you choose must reflect your attitude towards life. The living room is the main room in the house, which is why many choose bright, friendly and often muted colors. If you are braver and want to use bright colors or several colors in the living room, you can use them to color separate areas - for example the living room from the dining room. Wall paints are a good way to design walls, especially for fans of minimalism, because in contrast to eye-catching wall decorations, they are the simpler variant. Here are our top 3 color suggestions:
Light beige or cream tones: Cosiness is pre-programmed here. The color suits many different styles and furniture. It is neutral and natural, so you can really relax in the

living area

or create an accentuated environment with bright furniture.
Blue: Covered, cold, but also strong shades of blue can - if used selectively - appear royal and very noble. Warning: if the blue is too dark, the room could appear smaller. So it's better to use your favorite shade of blue for just one wall at first. Combined with light-colored furniture and cozy textiles, the room looks almost royal.
Grey: Gray is an all-rounder and can be used in dark nuances in large rooms as well as in small rooms - but then preferably in lighter tones. The neutral color suits many styles and furnishings. By the way, gray also works in combination with another main colour.
Wild wallpaper patterns for an extraordinary wall design

Pattern wallpapers are the alternative or even supplement to the wall paint. Here you have the choice between the most different patterns and colors. With patterned wallpaper you set accents, which means they are only attached to one wall, at most two walls. We do not recommend wallpapering the whole room with a flashy patterned wallpaper. That looks too overloaded and takes up space for the furniture. For example, if you prefer a black and white interior , you could be very happy with a black and white striped wallpaper pattern. Stripe patterns are generally very popular. They are available in different colors and in different stripe widths. Floral patterns, forests and seas, concrete, stone and wood optics or color gradients are pattern trends that are experiencing an upswing in the wallpaper world. The material is also different. From paper wallpaper to fabric or fleece - you decide which wallpaper suits you and your lifestyle best.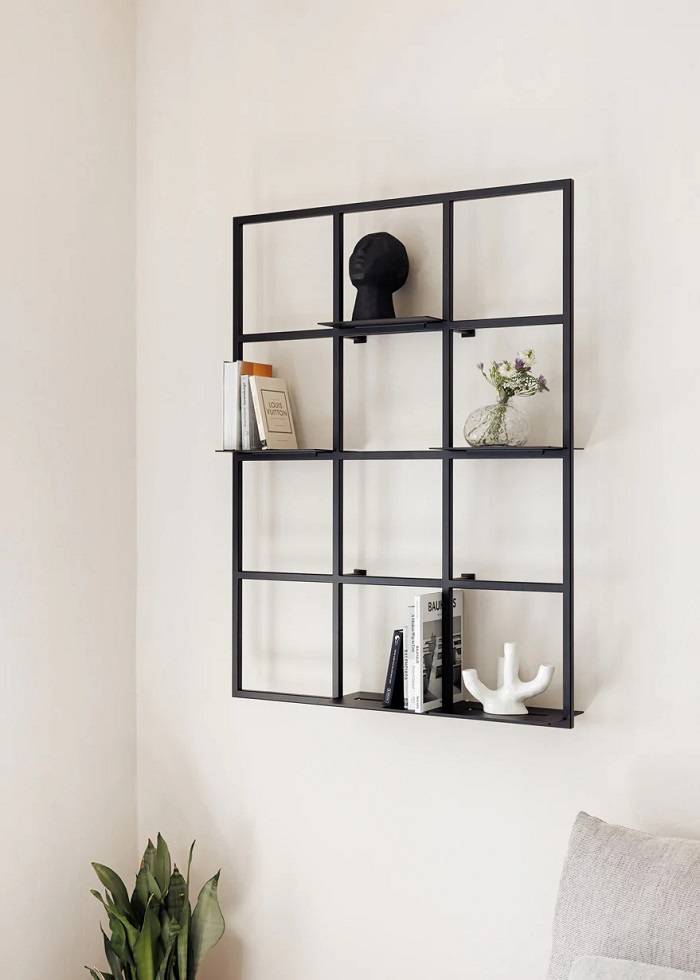 METAL SHELF RIVO | METAL BOOTH
Wall design in the living room - not without wall decoration

Without the right decoration, your wall will look empty. Wall decoration creates an eye-catcher in the living room. There are no limits to your imagination, but you shouldn't overdo it. With this decoration your living room wall becomes an eye-catcher:
Mirror or wall candle holders: wall candle holders made of gold or silver look classy and of high quality. If that is too much for you, you can opt for a large round mirror with a black frame, for example. This acts as a statement piece, especially in apartments furnished in a minimalist style.
Shelves or macrame: Shelves made of metal or trendy wall boards in contrasting colors - for example black shelves on white walls - attract everyone's attention and also guarantee practical storage space. Other decorative items such as coffee table books can be placed on top of them. Whereas wall hangings made of macrame in light colors are more reserved and underline the natural wooden furniture.
Wooden panels: Wooden panels are one of the top wall decoration trends for 2022. They give the room a cool elegance, but also naturalness and warmth. They can also be perfectly combined with indirect lighting. Wooden panels can be combined with many styles, such as the industrial style, the Japandi style or the Scandi style, and blend harmoniously into the interior.
Stucco moldings: Stucco moldings are not only a real eye-catcher on the ceiling, they can also be used on the wall, for example to frame large murals or simply be painted in a contrasting colour. So they stand out, but don't take up the entire space.
Picture frames: In general, large picture frames with black and white portraits, for example, are a stylish and personal addition to your living room. Whether you opt for personal pictures or abstract drawings, large pictures with frames made of wood or metal are the trend. You are also free with the arrangement and you can decide for yourself whether you prefer an accurate order or a staggered arrangement is more in line with your wishes.
Wall lights - put your living room wall in the right light

The atmosphere in a room stands and falls with the lighting. Without light or with bad light, even the most beautiful wall paint, wallpaper or wall decoration cannot have an effect. The latter in particular can be properly staged with direct or indirect lighting. Direct lighting, also known as area lighting, has a primarily selective effect. With it, certain elements on the wall can be illuminated or overshadowed. Shiny surfaces work particularly well in connection with direct lighting because the light emphasizes the color facets of the surfaces. If you want to use direct lighting, downlights, spotlights or spotlights are the right choice. Even a floor lamp can provide direct lighting. In contrast to this are mood lights or rather indirect lighting. It is more hidden in the room, for example behind a protruding wall, a suspended ceiling or behind the lamp itself. LED strips are also often used, which can be attached particularly well behind wall decorations such as wooden panels. We always recommend warm white light, which makes the living room even cozier.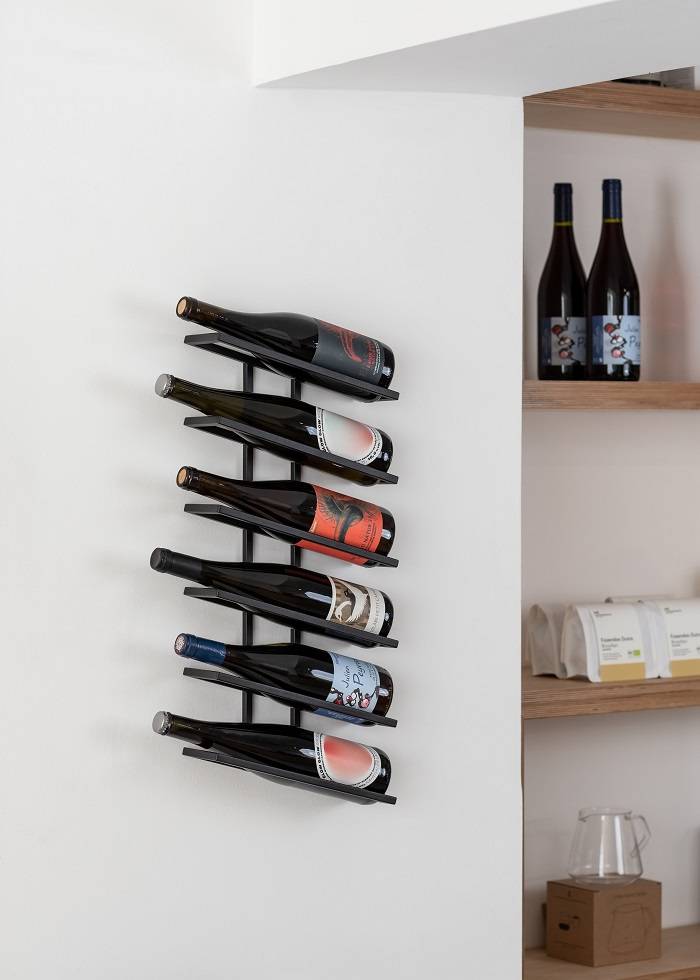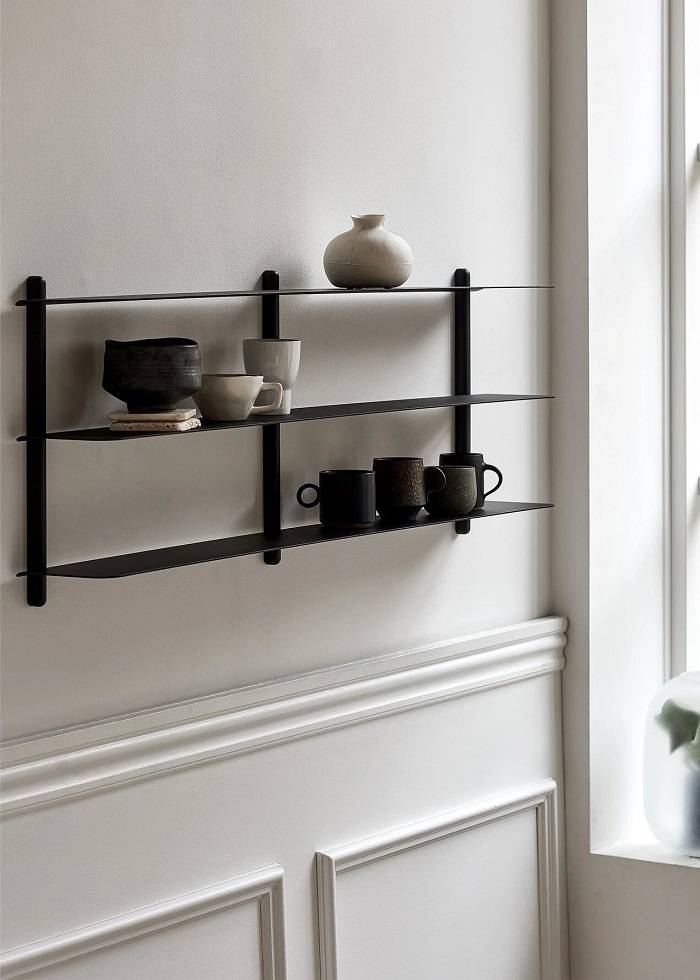 WINE RACK VINIA | METAL BOOTH
You should keep this in mind when designing the walls in small living rooms

When designing the walls of smaller rooms, you should pay particular attention to a few things. Dark colors absorb light. Therefore, it is always better to opt for a lighter wall color. Colored wall surfaces with a frame painted in light colors increase the width of the room. Vertical striped wallpaper can add height to rooms with low ceilings. In small spaces, opt for wallpaper with smaller patterns.
It is important to develop a coherent concept for every wall design that suits your own needs. There are countless creative options for wall design in your living room. Decide on suitable colors and lighting and discover other wall decorations, such as shelves, mirrors and much more at Metallbude .
---