Bedrooms in black and white have a very special charm. The color white suggests relaxation, freshness and airiness, while black is noble, graceful and classic. If you combine these two colors, an unmistakable symbiosis is created - a classic, elegant combination.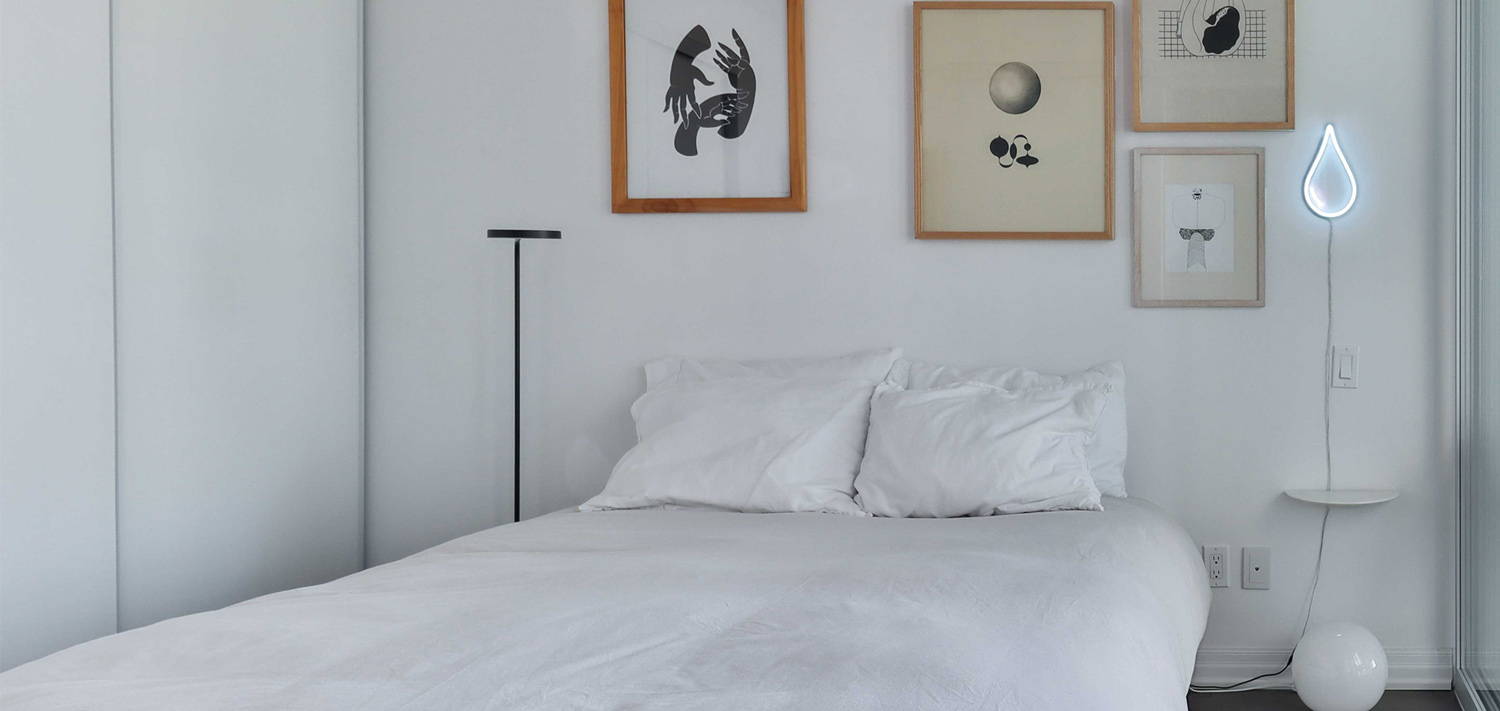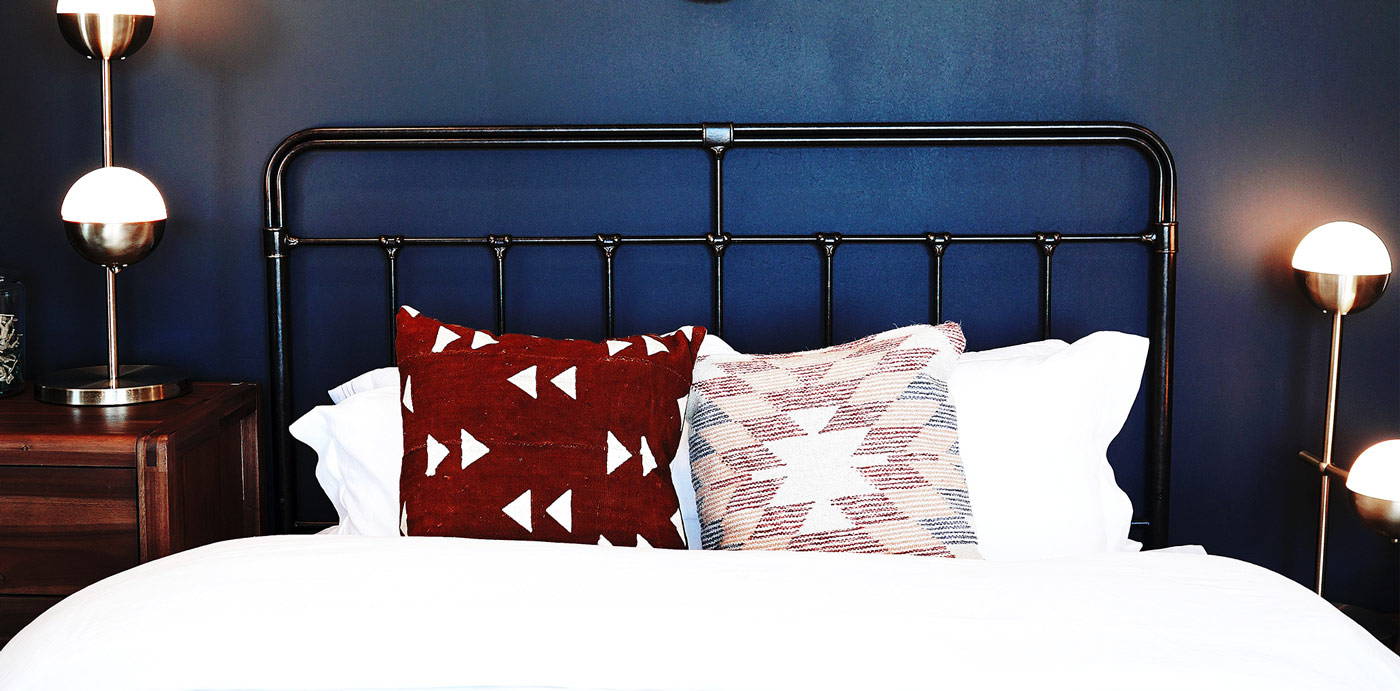 There is no reason to worry that a black and white bedroom might look drab and bland. Because the clean and ultra-modern look can easily be spiced up with a tertiary colour. Whether fiery red, invigorating green or cool blue: a bedroom in black and white leaves nothing to be desired!
Stylish effect of a black and white bedroom

It is not without reason that "opposites attract" – this strong contrast between black and white makes the two "non-colours" an absolute dream couple. Not least because these color combinations can be combined with all nuances and materials.
In order for a bedroom in black and white to look timeless, fresh and stylish, it is advisable to choose large furniture and bulky furniture, such as a wardrobe and an expansive box spring bed, in white, especially in small rooms. It looks friendly, chic and lets the room "breathe". However, if the room is predominantly white and the bed is a rather filigree metal bed in black, this would also be a wonderful combination - best complemented by other simple and minimalist metal furniture in black.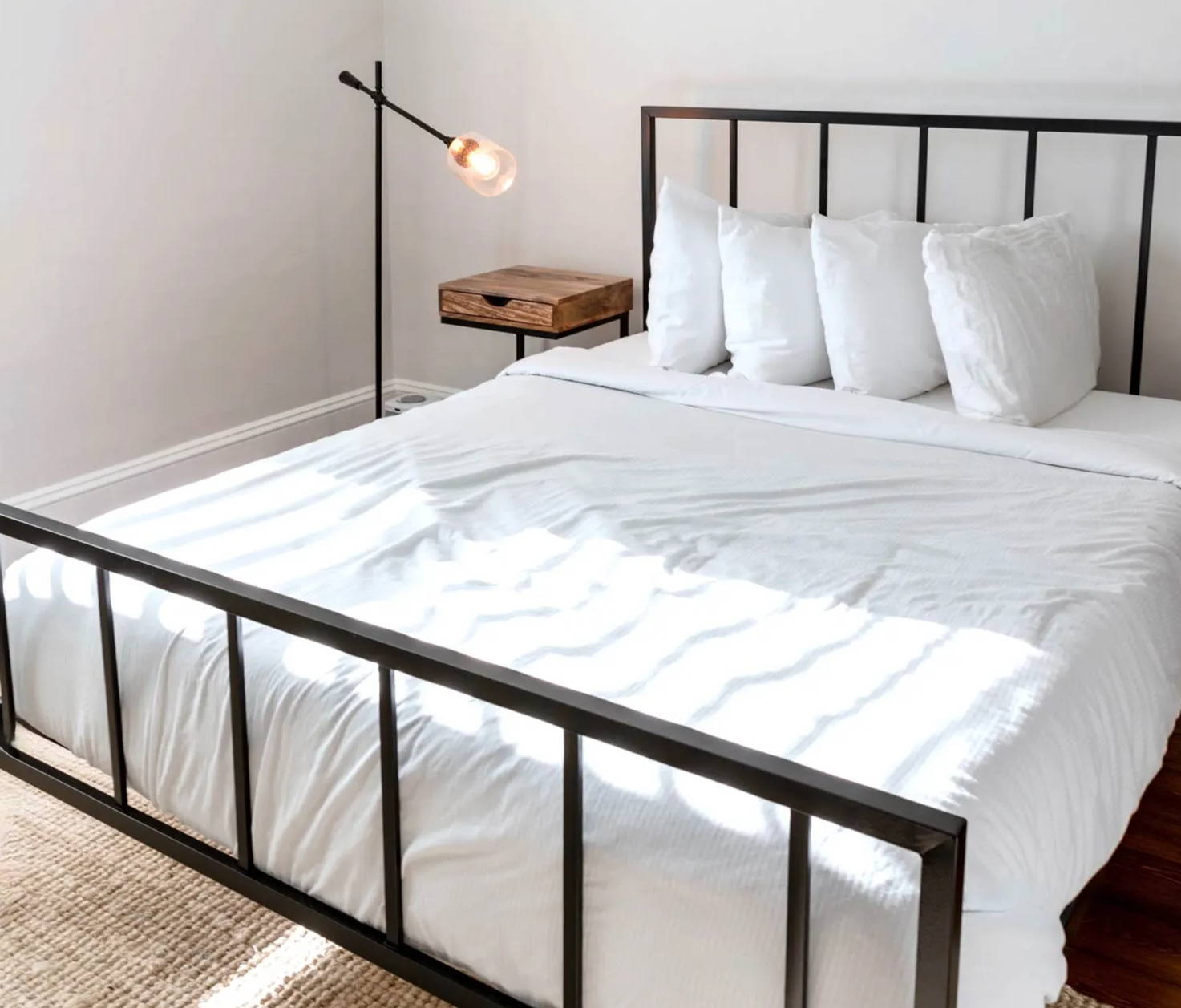 Furnishings in black and white also radiate calm, clarity and straightforwardness. Especially in the bedroom, this also has a beneficial effect on your relaxation and sleep.
You should keep this in mind when setting up a black and white bedroom

If you have decided on a
black and white bedroom
, questions about the implementation will quickly arise. We have some tips for you to turn your black and white dream into a stylish reality.

COAT HOOK PALO | METAL BOOTH
For small bedrooms, it is advisable to opt for white, both for the color of the walls and for large furniture, such as the closet. Otherwise, the room could appear even smaller than it is. Light walls, on the other hand, make the bedroom look airy and spacious. The rest of the furniture can then be selected in black. For example, sleek and slim metal furniture in black is currently in demand - for example, a side table made of black metal as a bedside table. It looks elegant and modern.
If you opt for a dark wall, you shouldn't go for deep black. That can seem threatening. Shades of gray are suitable instead, and anthracite is also welcome. Bright accessories freshen up the dark front. Light gray picture frames, light-colored coat hooks for the wall or a white clothes rail are perfect for this and also serve a practical purpose.
Don't let too many different patterns invade your bedroom. Throw pillows with circles, polka dot wallpaper and a checkered rug will make your bedroom restless. Minimalist furnishing limits the pattern selection to one or two different designs.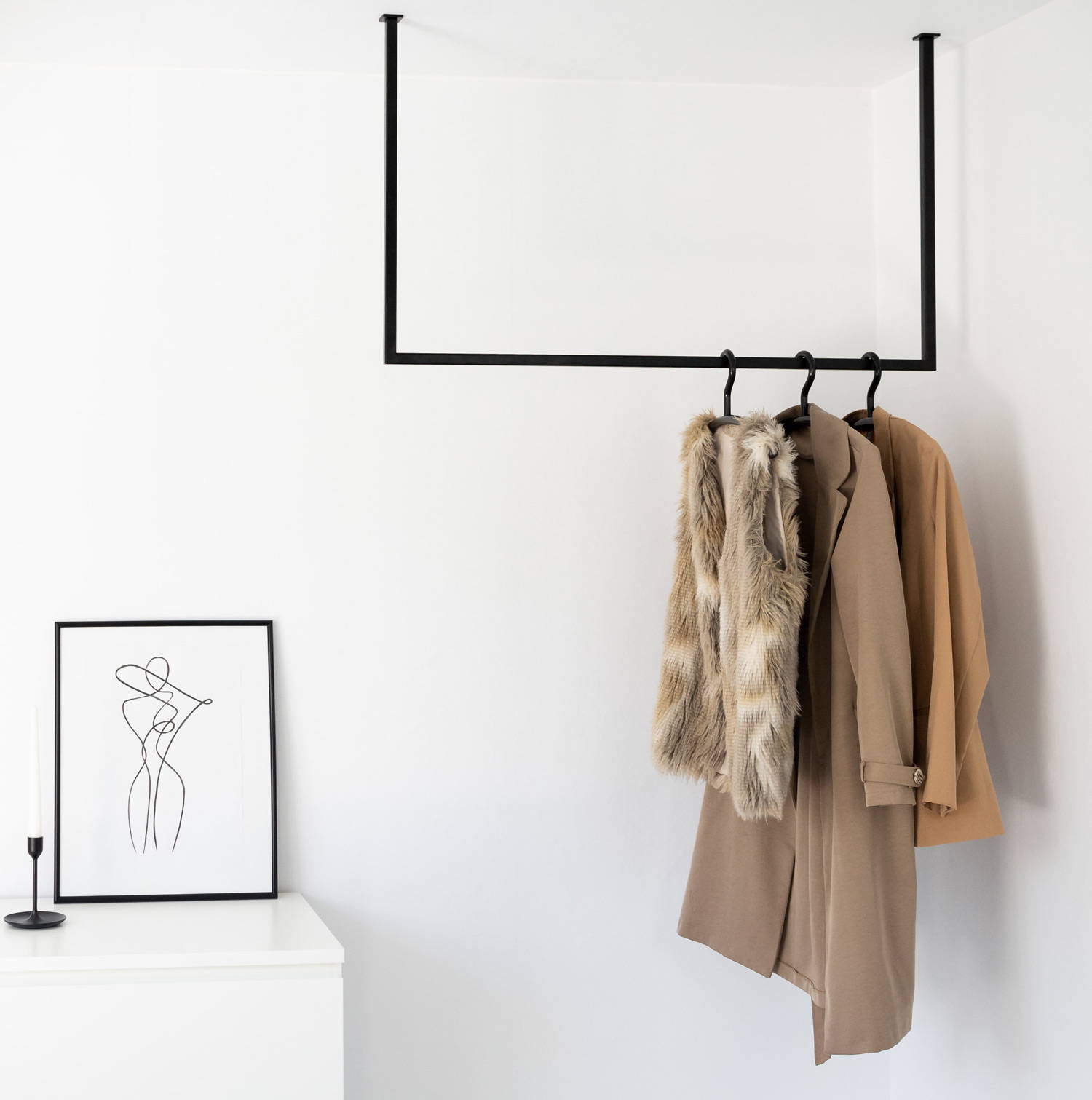 CLOTHES RAIL RUBI | METAL BOOTH
Possible combinations of different living styles in a black and white bedroom

A bedroom in black and white can also be wonderfully combined with modern furnishing styles. In particular, the modern industrial style can be wonderfully implemented in black and white. Black metal furniture that conveys high quality, robustness and a sense of style, combined with white or light walls with a concrete look and complemented by accessories made of iron, steel and metal and the industrial look is perfect.
On the other hand, there is the Japandi style, which has a simple, reserved and lasting effect. This can also be implemented in black and white, although wood is the material of choice for the furniture in a dark version or black metal in combination with light wood. Instead of a cold white, a warm creamy white or very light beige is recommended for the Japandi style. The best way to complement the facility is to add home accessories in pastel.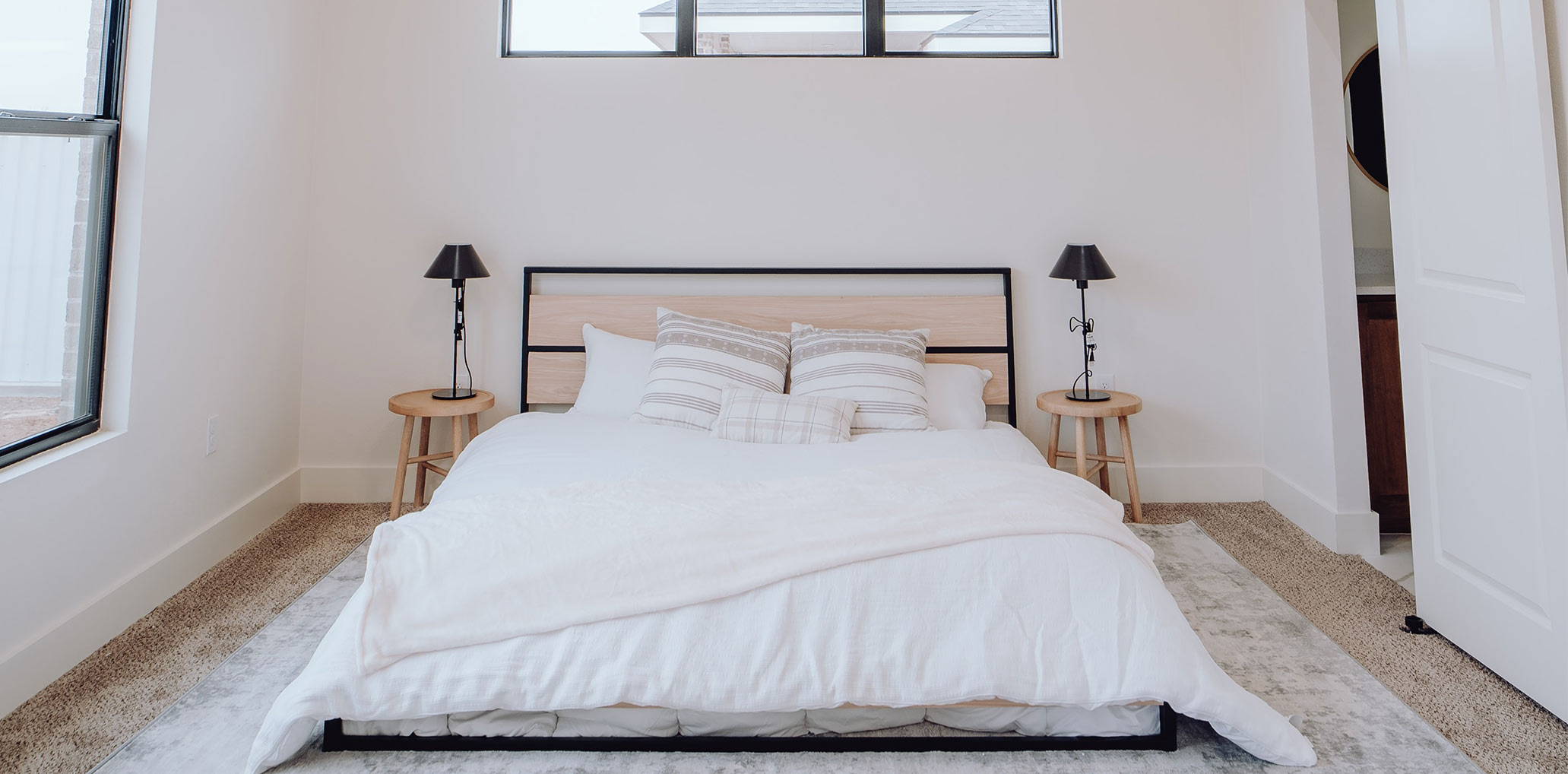 Even those who simply want to furnish themselves in a modern way are well advised to choose black and white. Minimalist furniture made of metal in black or white is currently popular, also in combination with solid wood. If the room is large, it makes sense to make one wall dark or to choose a black sliding door wardrobe.
Color accents are important in a black and white bedroom

If you decide on a bedroom in black and white, a color accent is important. Black and white looks very stylish and modern, but can also be cold and uncomfortable. To prevent this, you should break the contrasting color combination. Luxurious gold, natural green or playful rosé are suitable for this.
If you have an anthracite-colored wall, golden decorative elements breathe glitz and glamor into your vacation spot. Black and gold wallpaper can also set a highlight behind your bed.
If you are close to nature, shades of green are a suitable choice for your tertiary color. Whether on the wall, with fluffy textiles or stately plants: Green has a calming effect and exudes quality. Large leafy plants are best, as they not only look impressive, but also provide a lot of oxygen.
If you have a strong personality and like a feminine look, rosé is a perfect color accent for your black and white bedroom. With rosé-colored decorations or textiles, such as snuggly blankets and decorative pillows, romance is immediately drawn in.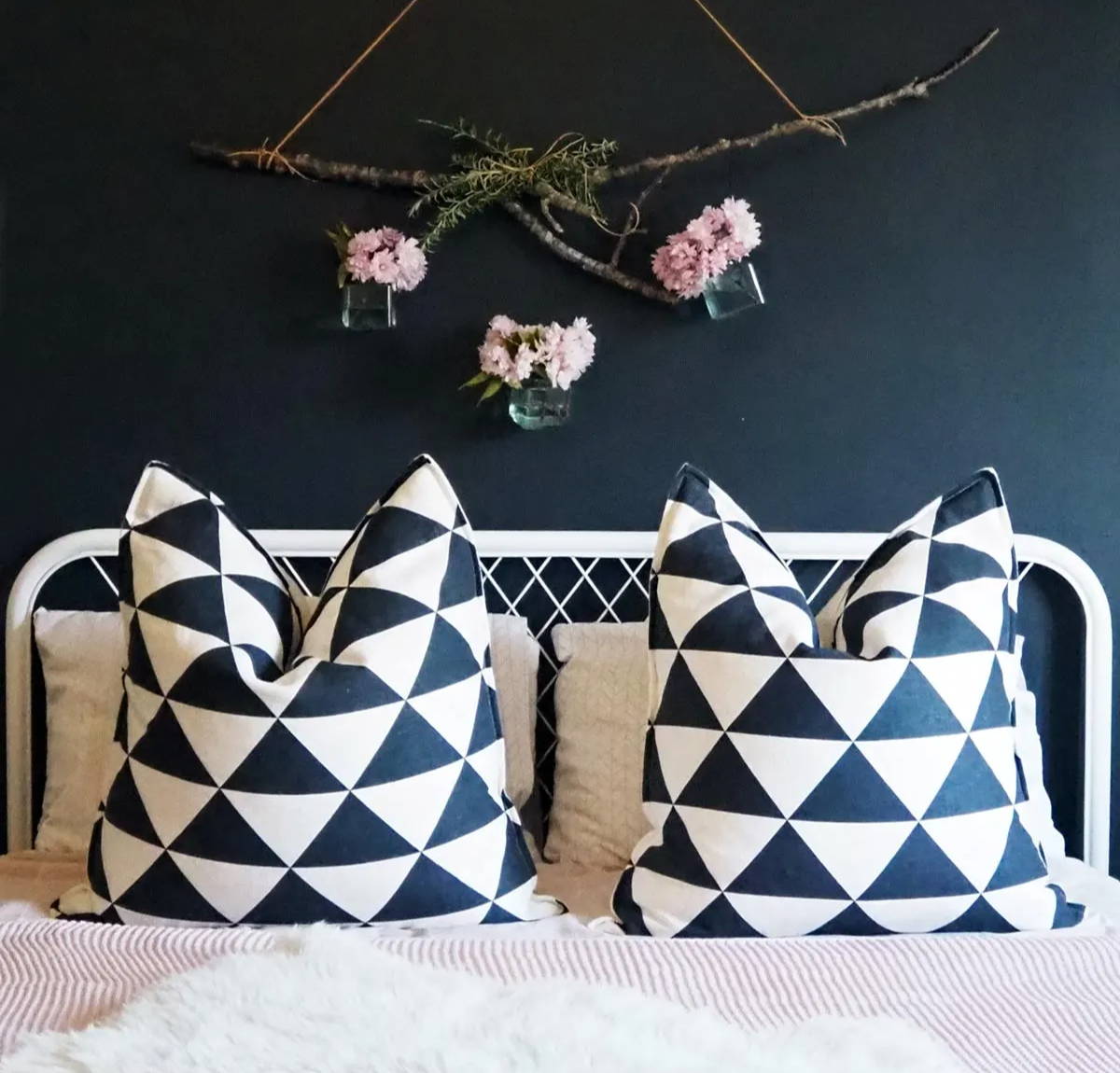 Accessories bring life to the black and white bedroom

Every bedroom dream is only perfect when individuality and attention to detail are visible and noticeable. Fresh flowers, personal photos and some favorite books will breathe life into your bedroom.
Of course, pretty accessories such as figurines, sculptures, murals, decorative bowls and candles make a room cozy, but your personality is only represented by the things you love - emotions arouse emotions.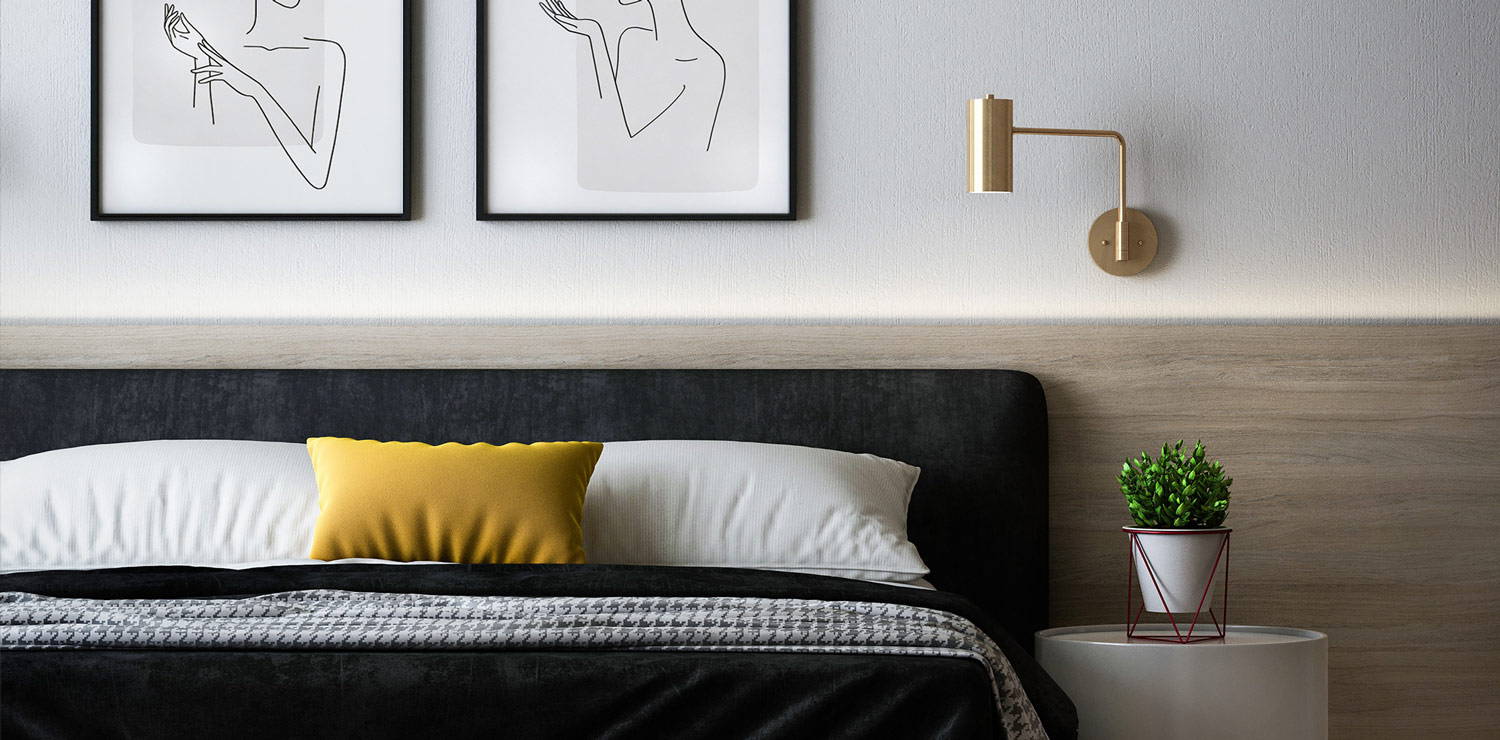 Matching products for your black and white bedroom dream

Do you want some inspiration to make your black and white bedroom dream come true? Then browse through the Metallbude range and discover the right furniture for your bedroom and other living spaces.
---