Less is more: setting up a minimalist bathroom

More and more people want to reduce their lives to the essentials and turn their backs on excess. Minimalism is trendy in all areas of life and the minimalist bathroom is also becoming increasingly popular. With good reason, after all, doing without the superfluous has many advantages. But how do you succeed in furnishing a bathroom in a minimalist way and which furniture or accessories should not be missing? We give tips on how to create a minimalist bathroom.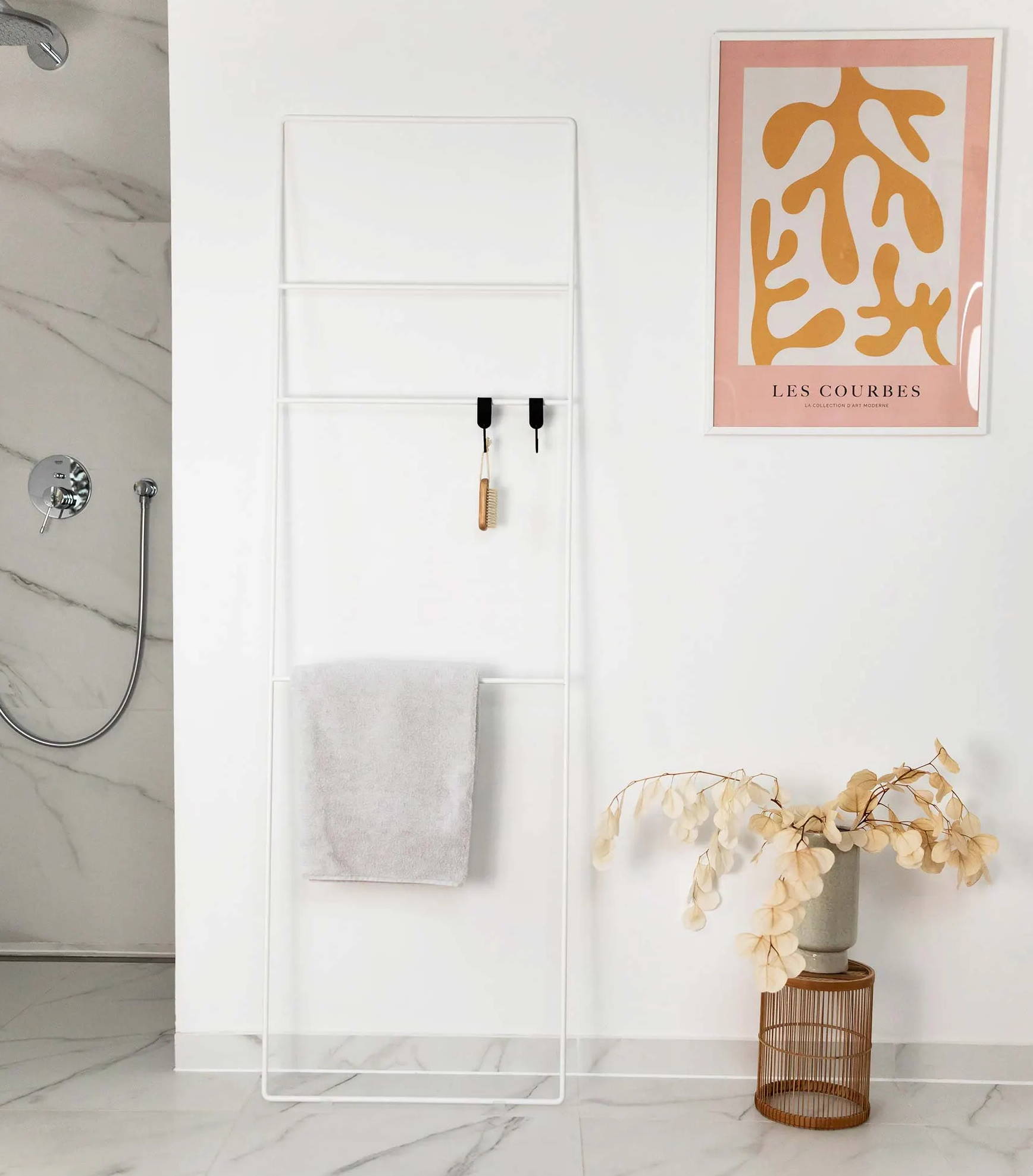 TOWEL RAIL ESTINA | METAL BOOTH
The minimalist bathroom offers these advantages

Minimalism is based on the idea of ​​reducing a form to its essentials, namely its function. So if you opt for minimalist living , you want to get by with little, but still enjoy full functionality. Flourishes or too much decoration have no place in such a bathroom, because they cause unrest.
With a focus on a small number of pieces of furniture and a harmonious design, a minimalist bathroom appears particularly matter-of-fact and calm. Such a bath offers the perfect conditions for maximum relaxation. And relaxation is one of the most important goals in the bathroom. But that's not all. In addition, a minimalist bathroom can convince with the following advantages:
Easy to clean as there are many free surfaces that can simply be wiped clean
A tidy look at all times, as nothing is left lying around
Plenty of space to perfectly showcase favorite items such as the shower area or the bathtub

If attention is also paid to minimalism in cosmetics and care products, plastic can be reduced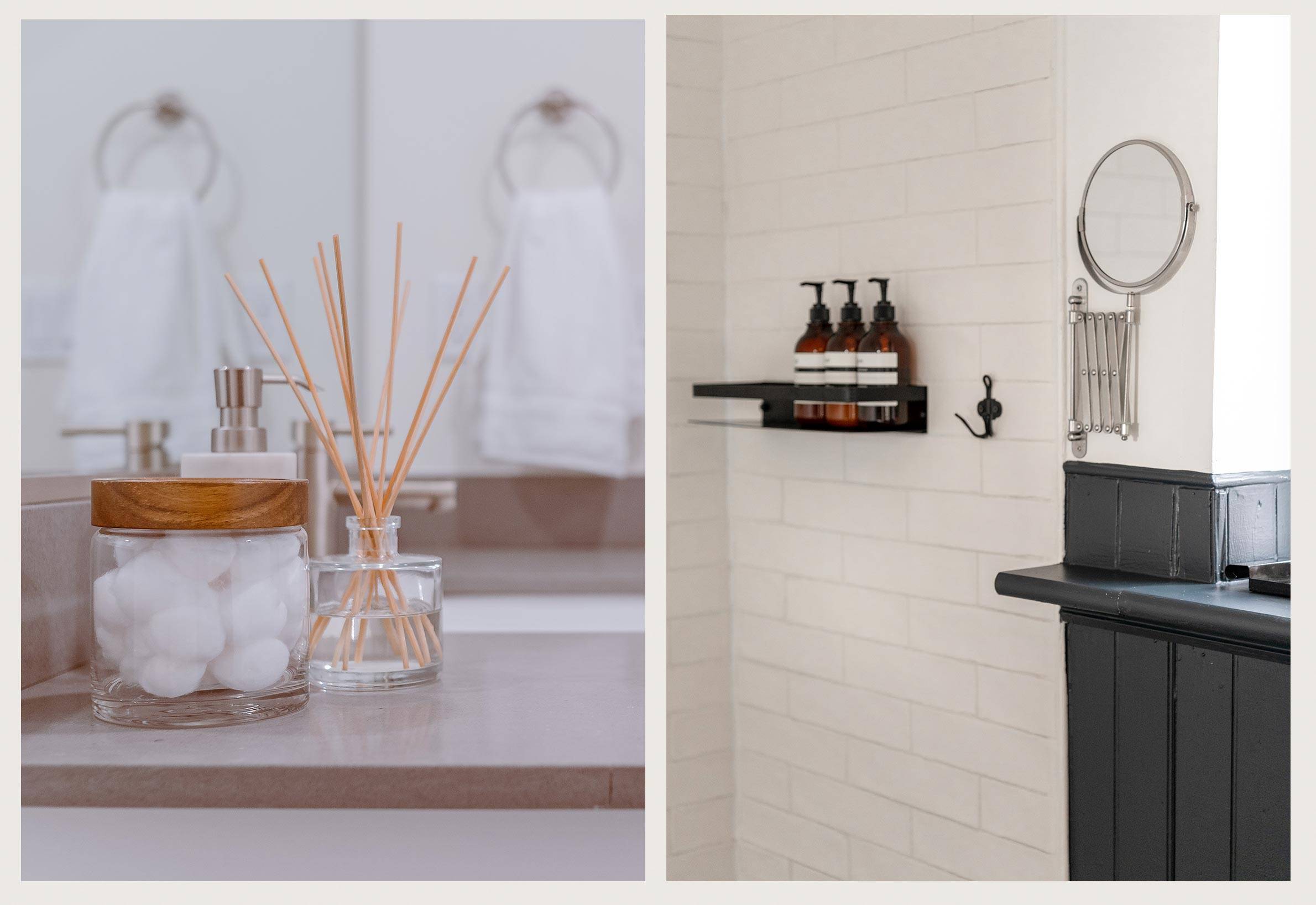 How to furnish your minimalist bathroom

It doesn't matter whether the bathroom is small or large - minimalism is suitable for every bathroom. Before you start furnishing, you should think about what you cannot do without in the bathroom. Everything else is either banished entirely and kept out of sight in the closet or elsewhere.
The right furniture for the minimalist bathroom

If you have any influence on the arrangement of the toilet, sink, shower and toilet, value symmetry. Cupboards, washbasins and accessories should be installed in pairs if possible for a harmonious overall picture. A harmonious overall picture is also achieved if towel rails or hooks are attached at the same height.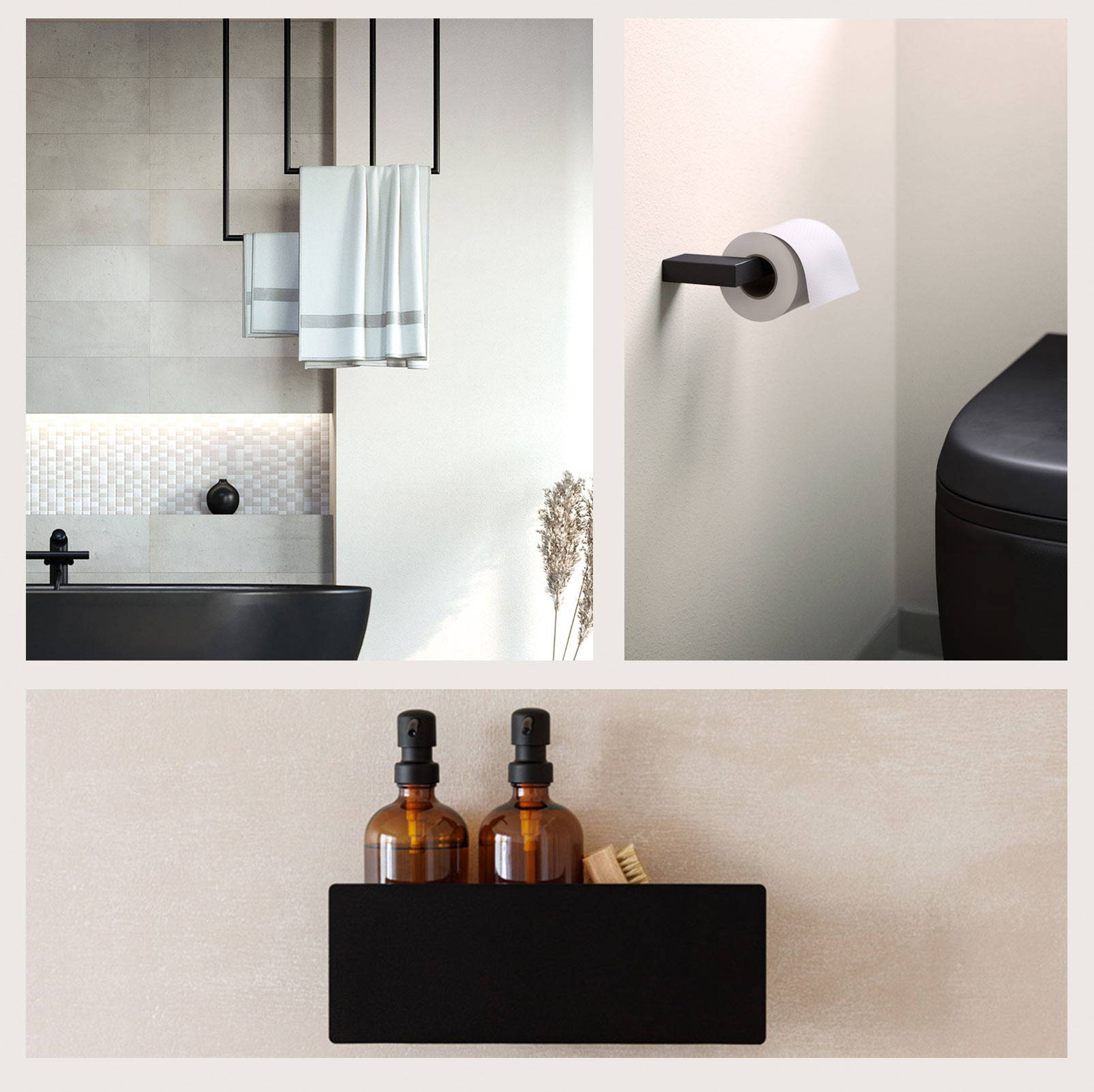 TOWEL RAIL TENSI, TOILET ROLL HOLDER TUALI, SHOWER SHELF SHEA | METAL BOOTH
You should also focus on one style and avoid a mix of styles. Incidentally, minimalist living does not mean that all furniture has to be completely linear. If you prefer curves, circles or another shape instead, make sure that this design runs through as much bathroom furniture as possible.
An open floor is typical of the minimalist living style. Towel holders, cupboards or toilet paper holders are mounted on the wall. The free floor makes the bathroom larger, which is why the minimalist living style is also perfect for small bathrooms.
Color and decoration for the minimalist bathroom

Although you don't have to do without color in a minimalist bathroom, you should still choose a color that is as simple as possible. Pure white is one of the classics because it is subtle and at the same time looks very fresh. In principle, however, other simple colors such as beige, gray, subtle blue or green are also suitable for such a bathroom.
The fewer contrasts you use, the larger your bathroom will appear. Of course, you don't have to completely do without a few accents. A bathroom towel holder made of black metal or a black shower shelf can become a charismatic eye-catcher in a minimalist bathroom.
For a personal touch you can use fewer, selected decorations. Green plants fit particularly well in such a bathroom, but baskets or a few textiles in simple colors also harmonize with the furnishing style.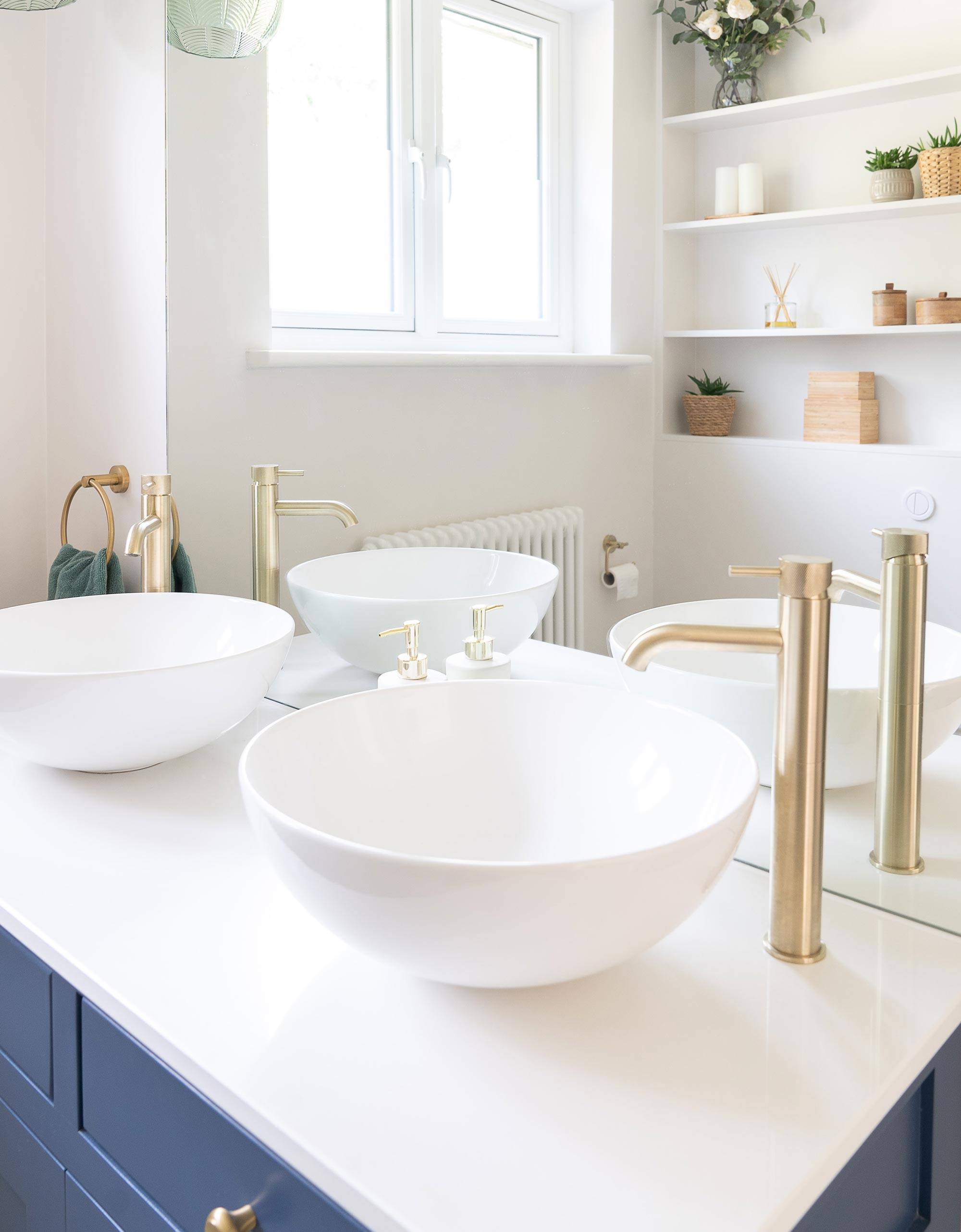 Which furnishing styles go particularly well with the minimalist bathroom?

You are welcome to combine the minimalist living trend with other furnishing styles. The industrial style and the Japandi living trend are particularly suitable for this. The industrial style focuses on a few materials such as black metal, wood and glass. The shapes are linear and reduced to the essentials. In the bathroom, you can implement this living style with black towel rails for wall mounting and standing towel rails, for example. Add a few selected decorative items made of natural wood and green plants to the furniture – and the industrial-style bathroom is perfect.
Japandi combines the exoticism of Japan with the naturalness of Scandinavia. Selected black accessories or bathroom furniture lend structure to the style of living. Other features include natural materials, clear shapes and subtle colors.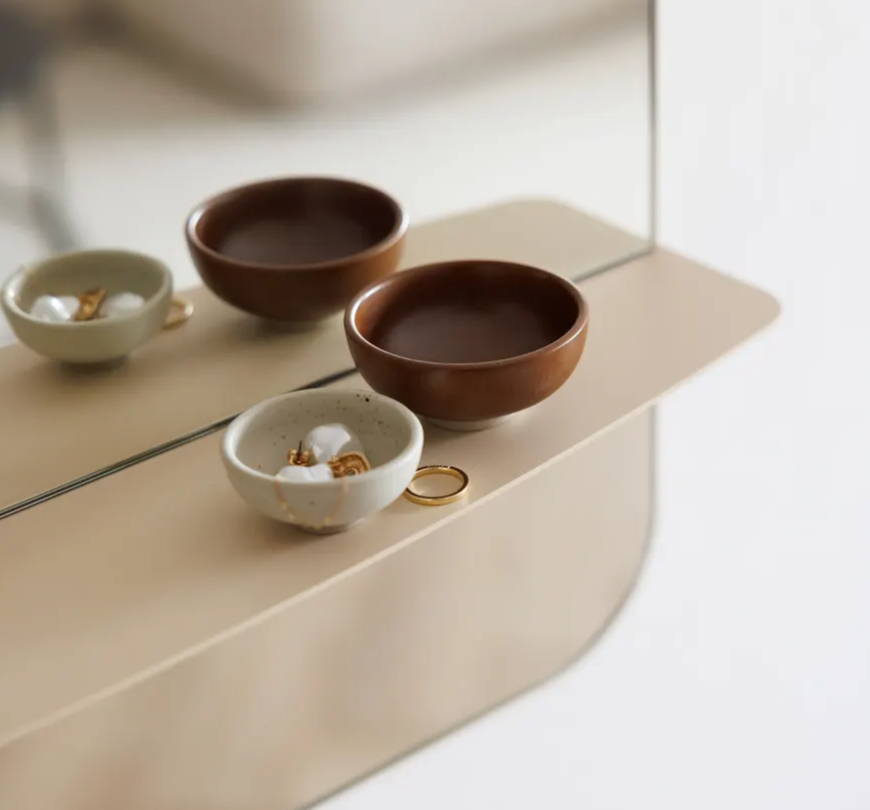 WALL MIRROR CALEO | METAL BOOTH
Your minimalist bathroom from Metallbude

At Metallbude , the name says it all, because we have focused on handmade furniture and accessories made of high-quality metal. Thanks to the simple forms and the focus on the function of each product, our furnishings fit perfectly into your minimalist bathroom.
And should you ever decide on a different style of living, you can combine our products with a different furnishing style as you wish. We value high quality, which is why we only have our furniture and accessories made in Germany or Europe. In many cases, this proximity to our producers enables us to respond flexibly to your wishes. So if you need one of our bathroom furniture in a different color or size, talk to us.
Browse our online shop and find your new bathroom furnishings. From an order value of 100 euros we do not charge any shipping costs. We look forward to your order.
---