The bedroom is of particular importance in your home, after all it is the most intimate room in your apartment. It is all the more important to design this room according to your ideas. With our bedroom ideas you set up a room to feel good. Because only when you feel good can you enjoy restful sleep and wake up in a good mood and ready to perform. We show you the 5 best bedroom ideas and give tips on how to implement them.
Basic rules for the bedroom ideas 2022

The times when the bedroom was used exclusively for sleeping and little value was placed on modern facilities are long gone. Today, the bedroom is a personal retreat that leaves plenty of room for individual design. Modern furniture with a high level of functionality is being introduced. Colors and decoration play an increasingly important role.
So that you can still get a good rest, the bedroom should never be overloaded, but radiate harmony. To achieve this, you should limit yourself to a few materials, shapes and colors. You can set accents with selected individual pieces in a different color nuance, a striking material or a special shape.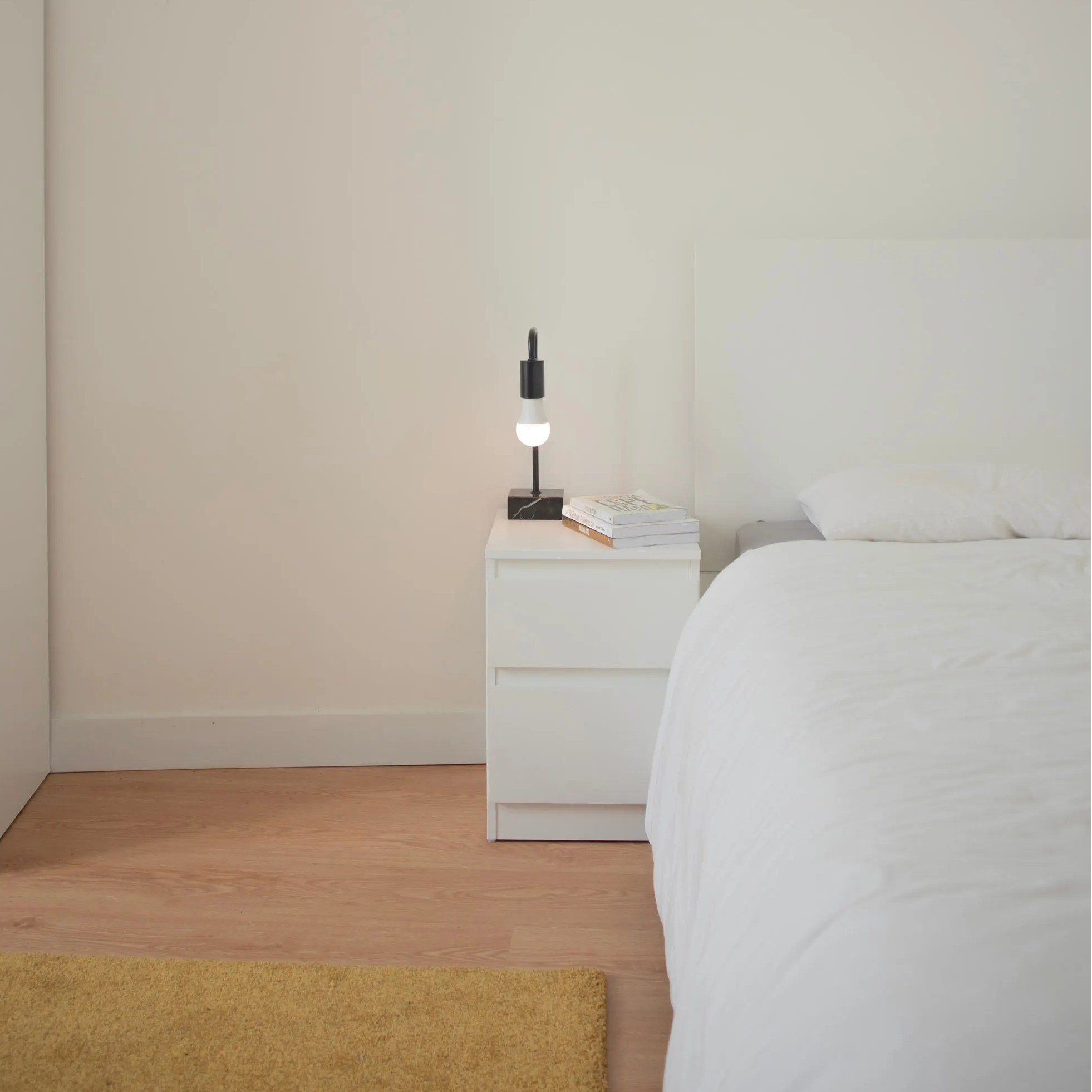 These are our 5 best bedroom ideas for 2022

Every year different trends conquer the bedroom. We present you our 5 favorite bedroom ideas 2022:
headboards for the bed
Textiles for even more comfort
Decorative items for an individual touch
Sustainability with natural materials
Japandi - Minimalism in Asian-Scandinavian garb
A bed with a practical headboard

Of course, the bed remains the focal point and the most important piece of furniture in the bedroom. Inspired by the popular box spring bed, headboards are trendy. Such a headboard not only gives the bed a majestic look, it also improves cosiness and is suitable as a backrest when reading or watching TV in the evening. You can then put your evening reading on a bedside table, for example, simple, black side tables made of metal are currently popular.
Different designs and materials are possible for the headboard. If you like it luxurious, opt for a headboard with a velvet cover. Velvet not only looks very elegant, it also feels wonderfully soft. Headboards made of natural materials such as wood or rattan are also in trend. Combined with a soft pillow, such a headboard is also suitable for leaning back comfortably.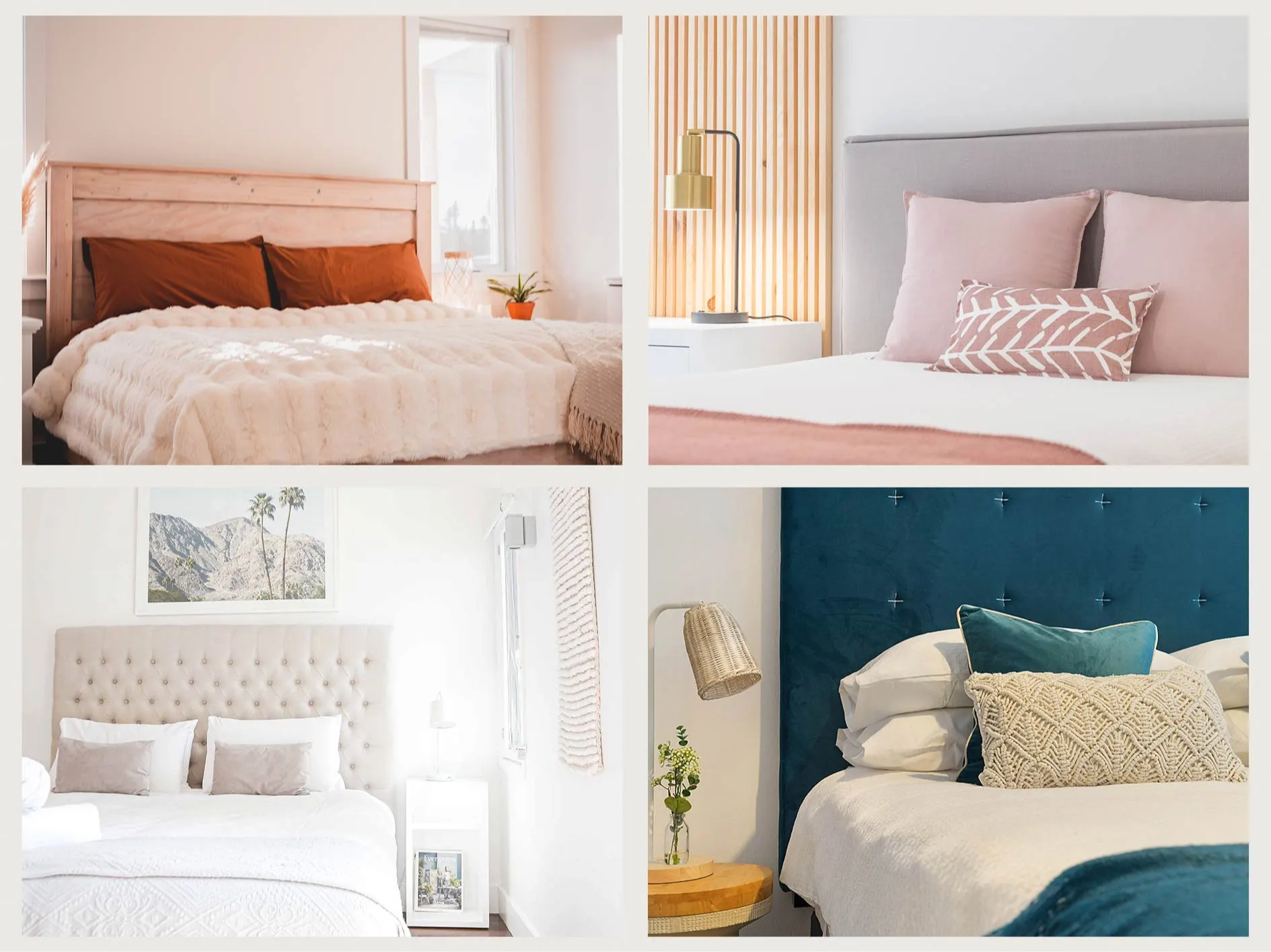 Textiles for even more comfort in the bedroom

Comfort and cosiness play a prominent role in the 2022 bedroom ideas. With textiles such as pillows, blankets and bed linen you can create a real feel-good atmosphere in the bedroom. A bedspread in your favorite color is also extremely practical. Even if your bed isn't properly made, it always looks perfectly styled with a bedspread. As far as colors are concerned, anything you like is allowed - from plain to patterned or in trend colors such as rich green tones, warm earth tones, light beige tones or dark blue tones. Plain textiles made from natural materials, which are spiced up with a few colorful accents, are also very popular.
Our tip: Would you like to store your blankets and plaids in a space-saving but decorative way? Then try a clothes rail for ceiling mounting and create a striking eye-catcher.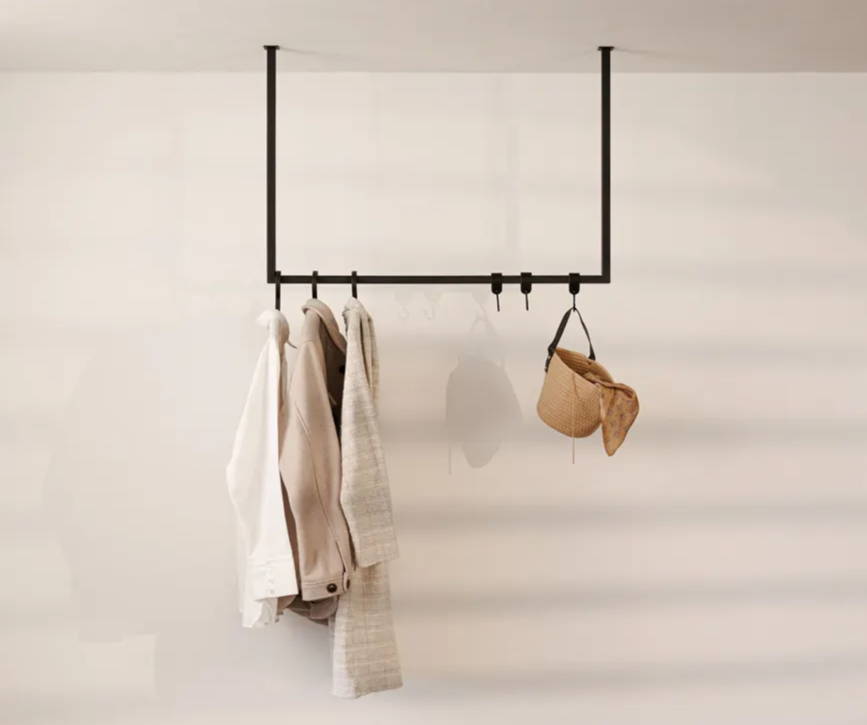 CLOTHING RAIL RUBI. | METAL BOOTH
Decorative items for an individual touch in the bedroom

Decoration and accessories are the icing on the cake when designing your bedroom. The best bedroom ideas 2022 include large pictures with minimalist motifs that are not hung on the wall but stand on the floor. These come into their own particularly well in front of walls with calm, subdued nuances such as sage, sand or light grey. But also fir-fresh green, multi-faceted copper or caramel are among the trend colors for the wall. Furthermore, floor lamps and fairy lights should not be missing in the bedroom 2022. Above all, indirect light sources and warm light ensure the right feel-good atmosphere in the bedroom.
For natural liveliness and a good room climate, add large-leaved plants to your interior. These evaporate a particularly large amount of moisture and thus regulate the room climate.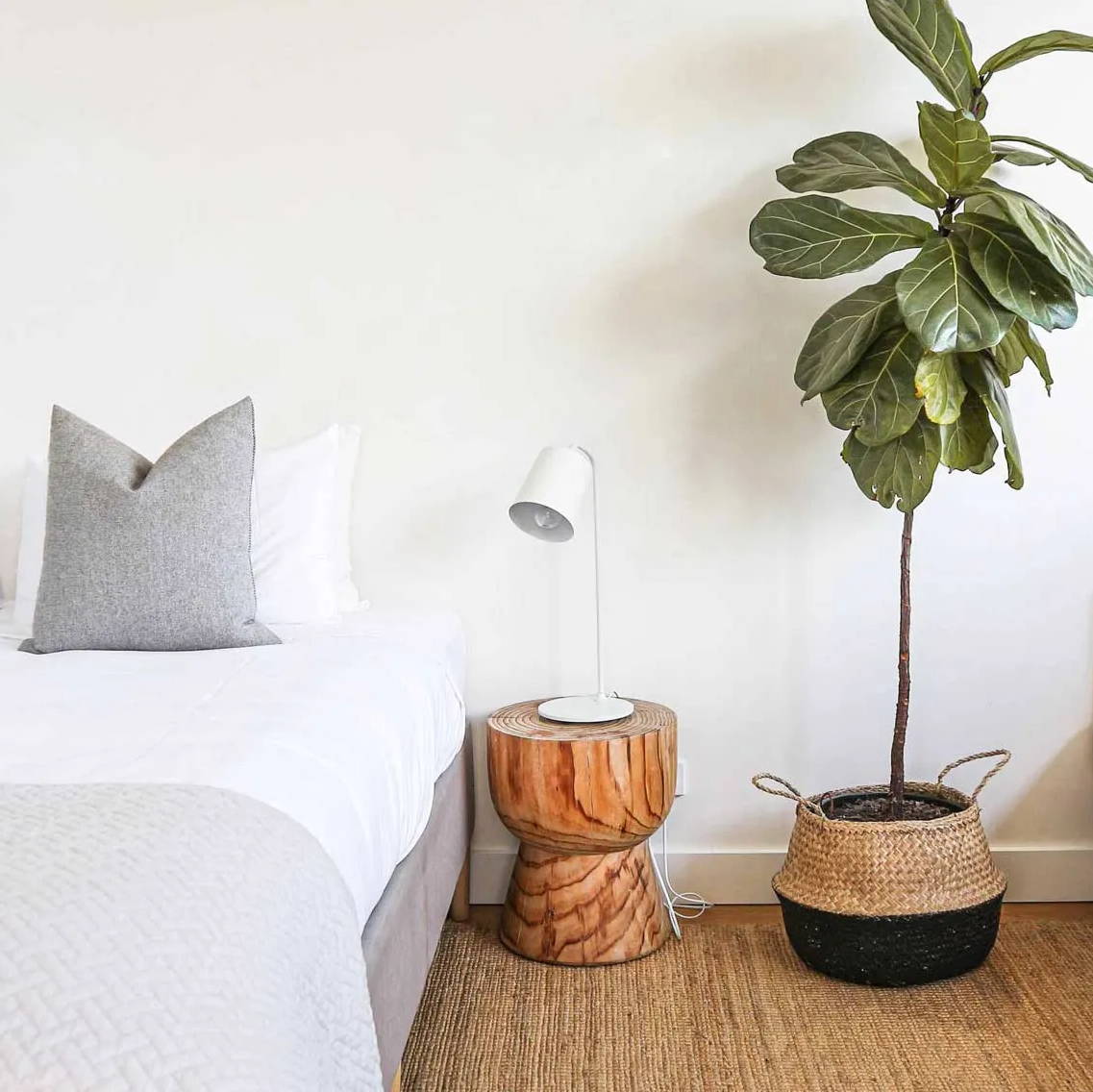 Sustainability in the bedroom with natural materials

Natural materials from sustainable production are in trend in 2022, because especially in the bedroom you come into close contact with many raw materials and pollutants or chemicals are an absolute no-go. Bedroom furniture made of wood is supplemented with textiles made of linen or other natural materials. Stone, seagrass, glass, bamboo or leather also give the bedroom a naturally pleasant atmosphere.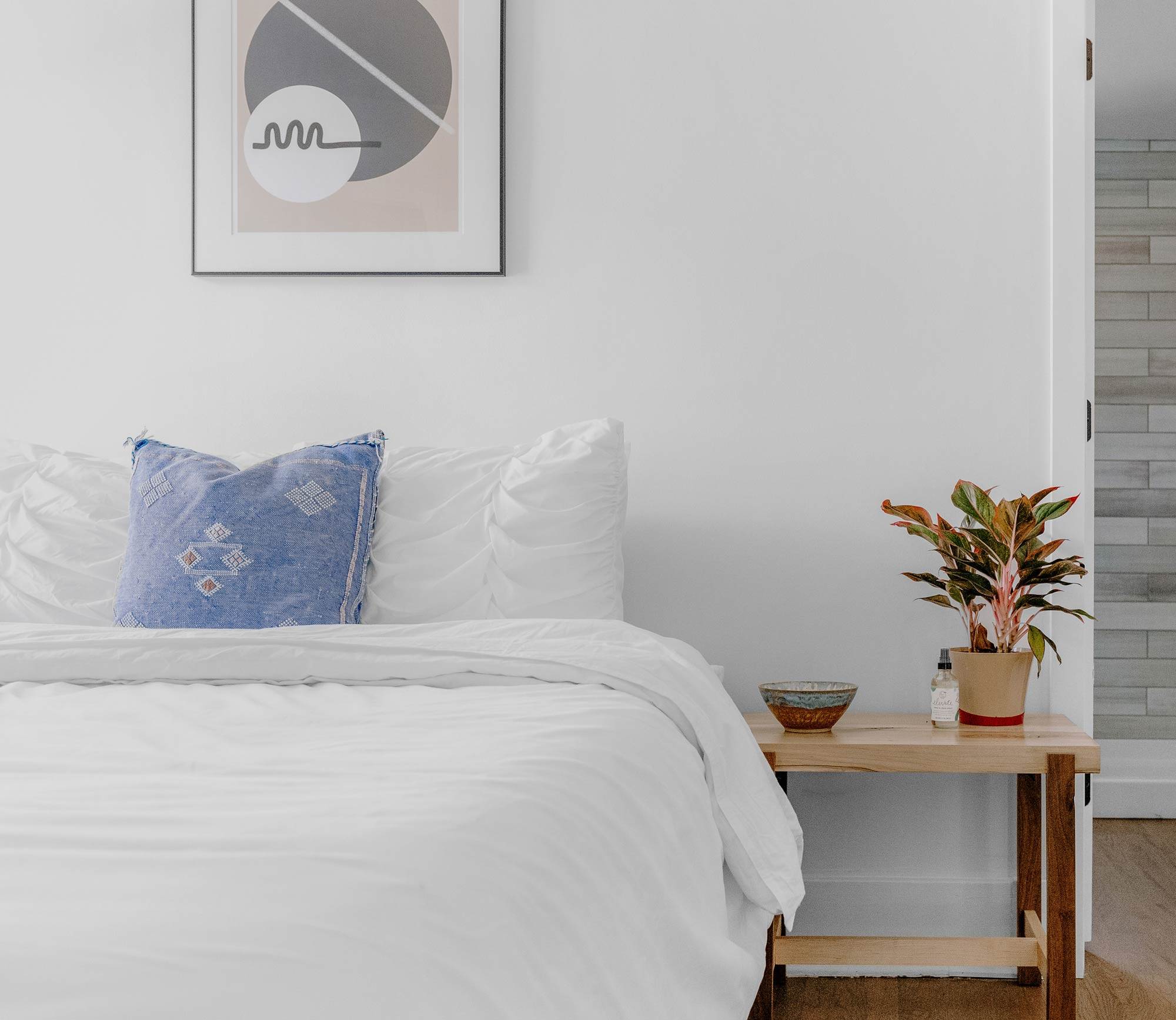 Japandi - Minimalism in Asian-Scandinavian garb

The trend towards minimalist furnishing will continue in 2022. The Japandi living trend is a prime example of minimalism. This combines the reduced aesthetics of the Japanese style of living with the natural touch of Scandinavian furnishing ideas. Typical of this furnishing style are clear lines, natural materials and selected decoration. Japandi is reduced to the essentials and still looks very comfortable.
The subtle use of the color black, for example in the form of selected furniture and accessories, such as a side table made of black metal or decoration in timeless black, is also characteristic of the Japandi style of living.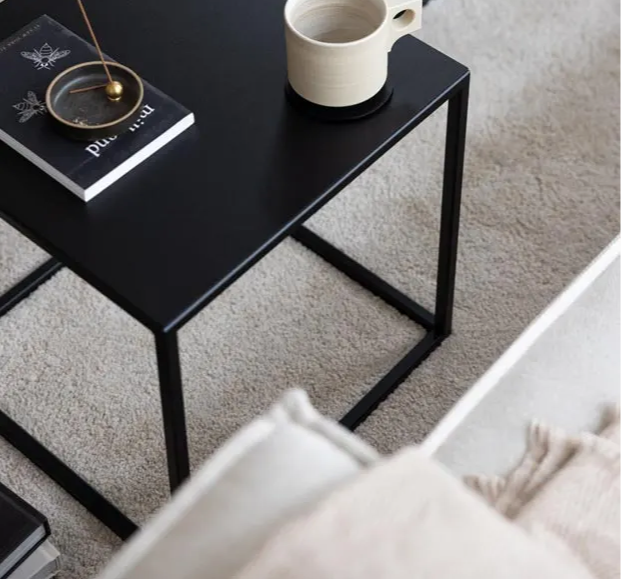 SIDE TABLE SOLI X | METAL BOOTH
You can't do without these 3 must-haves for the bedroom

It doesn't matter whether the bedroom is large or small, with these 3 must-haves you show your awareness of the bedroom ideas 2022 and at the same time enjoy a lot of cosiness:
A bed with a headboard or large pillows for more comfort
Textiles or decoration made from natural materials for a cozy ambience
Large mural with black line art for elegant eye-catchers
Bedroom ideas from Metallbude

Metallbude stands for modern living in minimalist designs. We not only create the designs of our furniture ourselves, we have them manufactured exclusively in Germany or Europe. Due to our proximity to the manufacturers, we can also implement special requests. Maybe you dream of a black and white interior ? Then talk to us, we can also produce many of our black furniture and accessories in white. From 50 euros we deliver your order free of charge within Germany.
Much of our furniture is reminiscent of the industrial style. Due to the simple looks, these can usually be easily integrated into different furnishing styles. Just give it a try. We are sure that you will like our handmade products as much as we do.
Discover suitable furniture for the implementation of your bedroom ideas in our range!
---