Modern living room - set up with style and minimalism

Nowadays, modern living rooms are one thing above all: puristically furnished. They appear clear, tidy and impress with their clear, linear shapes, muted and unobtrusive colors and their functionality. In this way, as much space as possible should be obtained. But decoration and patterns also find their place in modern living rooms. In this article you will find out which design and furnishing ideas make your living room look modern and which furniture you can get from Metallbude for your puristic living room. Here are 6 tips to help you furnish your living room in a modern and minimalist way.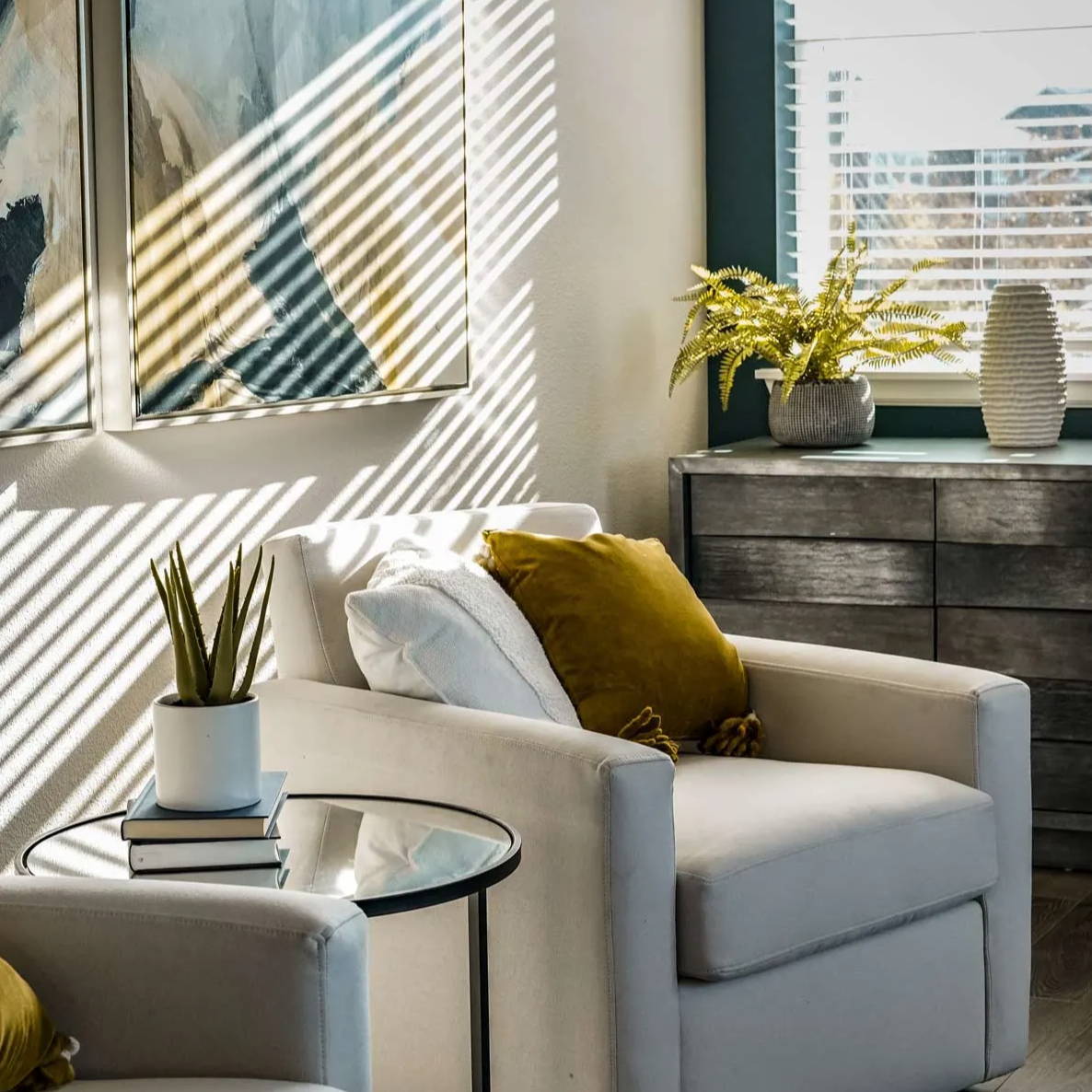 Muted wall colors - a must in modern living rooms

One of the most important points in the design of modern living rooms is the choice of color. Neutral and muted colors set the tone in modern living rooms. The most popular colors are:
Shades of gray and anthracite
Depending on how the colors are used, the living room appears either cool and elegant or warm and cosy. Both atmospheres are very compatible for the design of the modern living room. Of course, splashes of color are allowed. However, these should be kept in muted tones or in pastel tones. We recommend blue or purple. Also, less is more. Wild patterns do not belong in a modern living room, but large, graphic patterns can complement the modern look if they are placed correctly. Darker earth tones and the classic white or black are definitely in trend.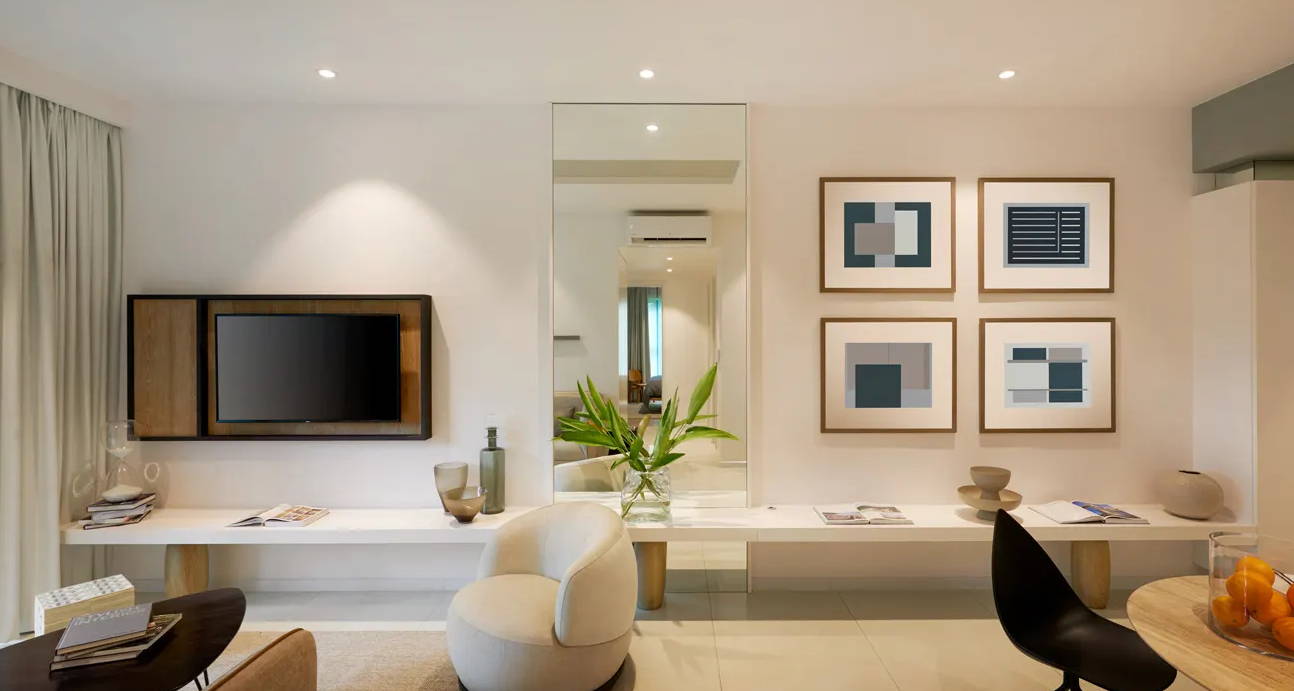 Design living room in a modern way - timeless decoration and straight-line elements

What should not be missing in modern living rooms is decoration. In modern living rooms, however, the following applies: quality before quantity. Straight, reduced table or floor lamps and mirrors have a particularly high-quality effect. Black metal decoration sets strong accents without taking up too much space. Coffee table books or large graphic illustrated books also look particularly good on metal coffee tables . Indoor plants are also very welcome. The important thing is: Decide on a few objects, things that you like to surround yourself with and that have enough space to have an effect.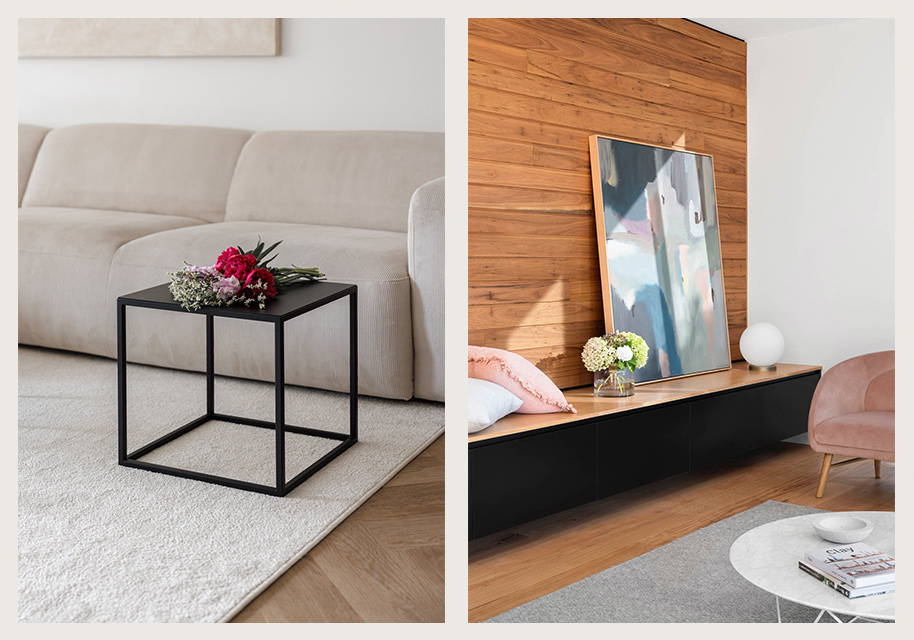 SIDE TABLE SOLI X | METAL BOOTH
Can't decide what decoration best complements your modern living room? Here are a few more suggestions:
timeless and not too colorful pictures (frames), which are hung close together in a rectangular shape in a salon
linear vases, sculptures or plaids
Pillows, blankets and carpets in simple colors and simple shapes
personal items and memories (use sparingly and collect in one place)
Modern living rooms need the right lighting

The light is crucial in every room of your apartment, with it stands and falls the atmosphere of the room. There are many ways to use lamps in modern living rooms. You can choose between abstract arc lamps, simple ceiling spotlights and light strips as well as straight floor lamps. Of course, you don't have to decide on one type of lamp. Depending on the purpose, work with different lamps, which do not differ too much in the light color. A functional light that you need for reading, for example, should be placed right next to the sofa. But other technical gadgets also belong in a modern living room. An integrated charging station or furniture with integrated lighting are extremely practical and also stylish.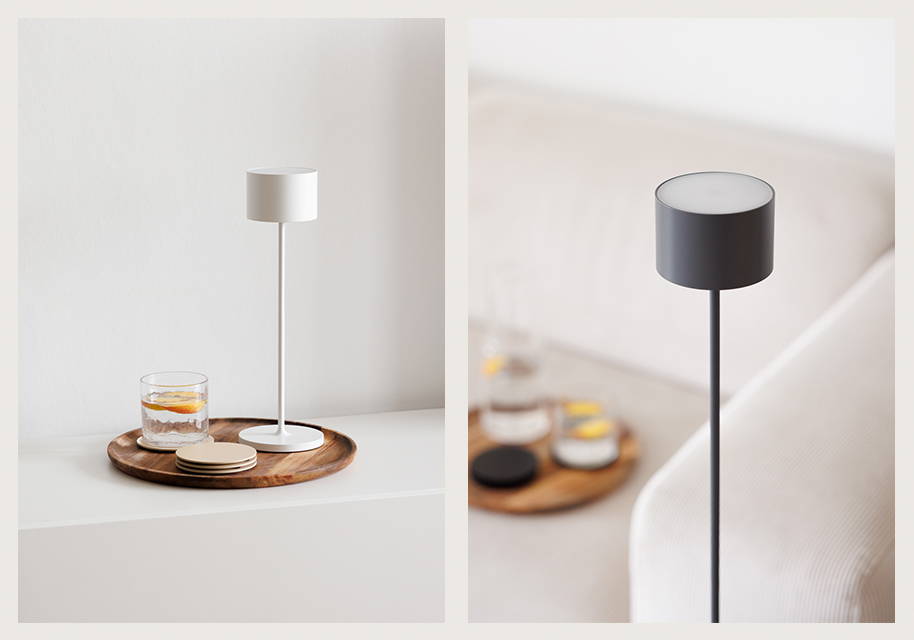 TABLE LAMP FAROL | METAL BOOTH x BLOMUS
Suitable materials for furnishing modern living rooms

As far as the material is concerned, you should choose carefully. The materials wood, stone, concrete or glass are ideal for modern living rooms. In combination with trendy furniture, these high-quality materials appear natural and yet straightforward. These materials can be found in furniture such as shelves, coffee and side tables, cupboards and many other smaller pieces of furniture and decoration. Real wood furniture radiates the perfect warmth in combination with straight shapes. Furniture made of concrete, stone or glass also looks straight but much cooler. Textiles in the form of carpets and cushions etc. should also be used to match these materials. These bring the necessary comfort.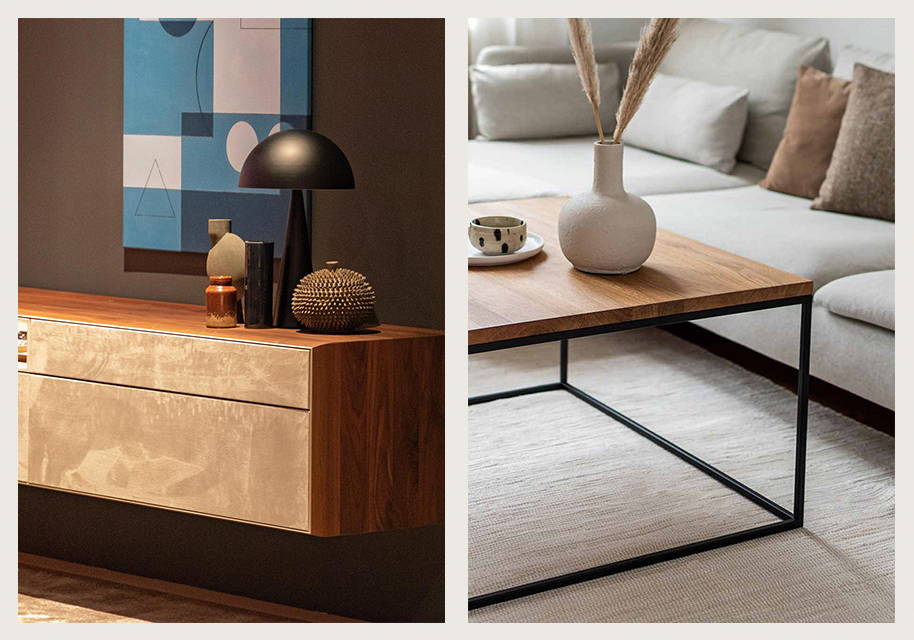 COFFEE TABLE DEVANA | METAL BOOTH
Bespoke furniture for your personalized and modern living room

In addition to the couch, which is probably the main piece of furniture in every living room, there are many other pieces of furniture that you should not ignore in a modern living room:
• Shelves and consoles made of metal: Black shelves or entire consoles made of metal provide sufficient storage space. You can decorate and store objects in them, thus supporting a cleared-out look.
• Straight lamps : Lamps such as the LED free-standing lights give the room a clean atmosphere and do not push themselves into the foreground in terms of ambience.
• Custom-made mirrors and clothes rails: Mirrors and clothes rails have now arrived in living rooms and look very classy in colors such as black or anthracite. Incidentally, at Metallbude you can have your clothes rail made to your personal dimensions .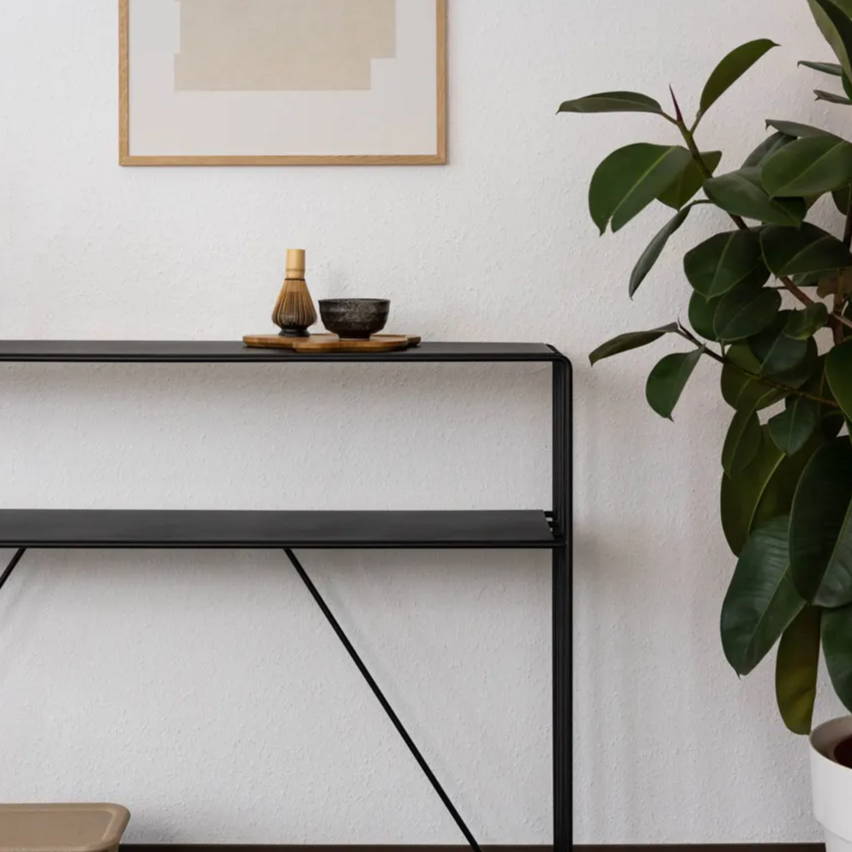 CONSOLE TABLE RIA | METAL BOOTH
Create contrasts and mix styles in modern living rooms

Furnishing a modern living room does not mean sticking to just one style or just one color family. For example, it is quite possible and stylish to bring in some furniture from other styles or eras and thus underline the puristic style of the living room. Furniture such as an old wing chair, an old secretary or even a grand piano is suitable here, bringing nostalgia into the modern room and making the mix of styles perfect.
Color contrasts also look very modern. A living room in black and white , for example, looks minimalist and elegant. A black and white setup is relatively easy to implement and the possibilities are enormous. Choose light-colored furniture here and set black accents with decoration, smaller metal furniture or an effect wall.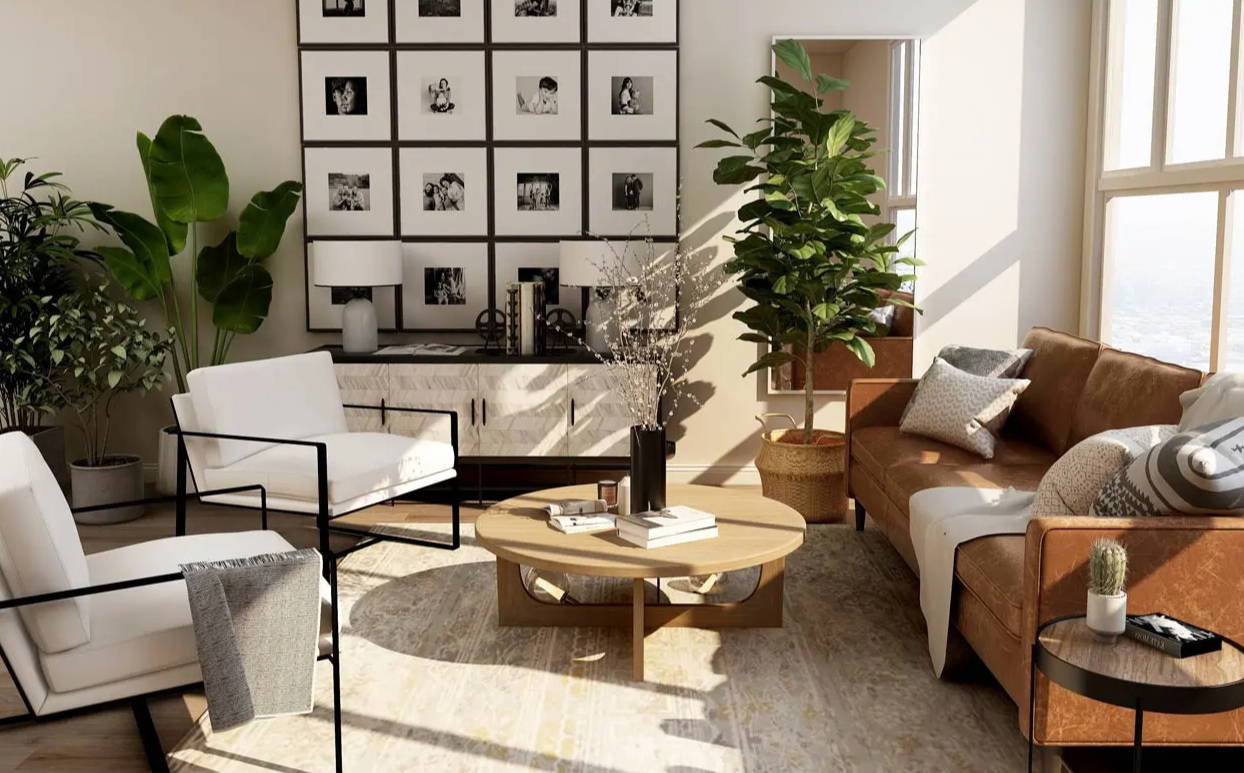 Furniture and decoration for your modern living room from Metallbude

Modern living rooms are characterized by the right style. They have many faces and can be designed with different colours, materials and different light sources. When it comes to decoration and furniture, there are countless ways to combine your own style with the modern.
The important thing is: Choose furniture with corners and edges and make sure that the ambience radiates calm and lightness. Your living room should look tidy and your furniture should support you in that. It may be worth investing in bespoke furniture here to use your space efficiently. Especially in small living rooms, the number of furniture should be limited to a few selected ones and care should be taken to leave enough space between the furniture. Discover more inspiration and furniture for your modern living room at Metallbude.
---