Classic and versatile: A bathroom in black and white

Bathrooms as we know them today fulfill far more than just the functional hygiene purpose. The 4 tiled walls have long been transformed into a decorative oasis of well-being. If you like things rich in contrast and classic, you can opt for a bathroom in black and white. A design that is colorless and timeless and definitely one of the trends for 2022. A black and white bathroom brings sensuality, a cozy atmosphere and a special lifestyle into the bathroom.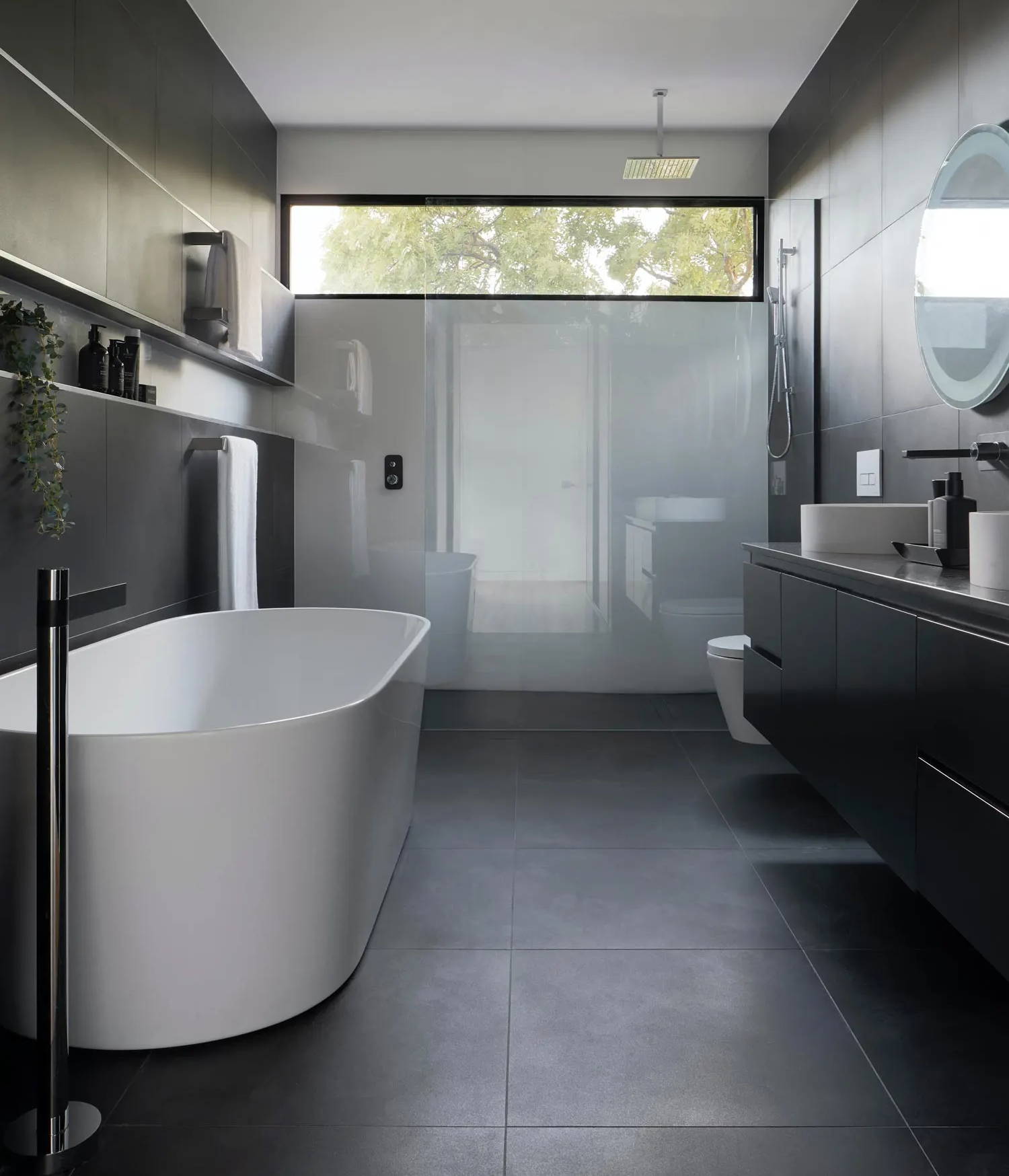 But what do you have to consider when setting up a black and white bathroom? What are the advantages of such a high-contrast bathroom? And how do you prevent the beautiful oasis of well-being from looking dull and dark?
If you are thinking about a black and white bathroom, it is important to know the effect of the respective basic color. Black tiles with white bathroom elements - this combination is timelessly elegant. Tiles can be combined well with white bathroom furniture such as towel rails or mirrors. White high-gloss furniture in front of a black wall, for example, looks particularly stylish. In addition, dark rooms radiate a special warmth and cosiness.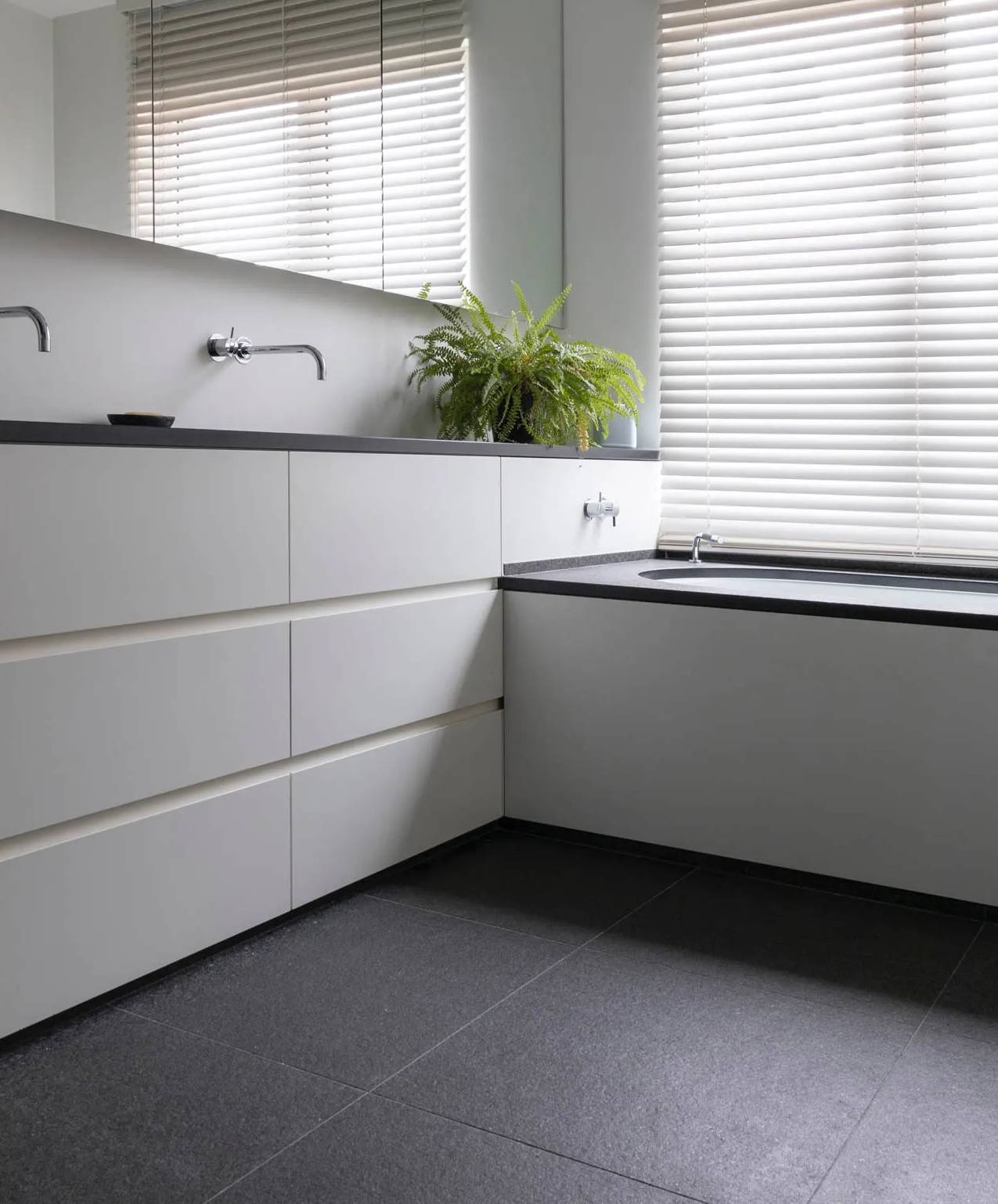 Black bathroom furniture in front of plain white walls create exciting contrasts. In addition, black accents appear clear and tidy. Black bathroom furniture and black fittings are perfect if you want to furnish your bathroom in a minimalist way. A special eye-catcher is, for example, a black ceramic washbasin, which looks good on a white background even in a small bathroom.
Speaking of which: you should keep small bathrooms in a light tone and prefer to work with dark accents, as too much black can be overwhelming here. If you have a rather opulent bathroom, you are welcome to let off steam with dark tiles. Dark bathroom furniture and larger bathroom elements such as a dark shower curtain also appear stylish in a large bathroom rather than cramped. However, keep in mind that black tiles require more intensive care as limescale stains are easier to see.
But whether black with white or white with black - which combination you choose is absolutely a matter of taste!
Black and white is changeable

At first glance, a bathroom in black and white may seem a bit colorless and drab. But far from it: this two-tone furnishing style for wet areas can do more than you think. Because the two non-colors black and white offer the perfect basis for setting color accents.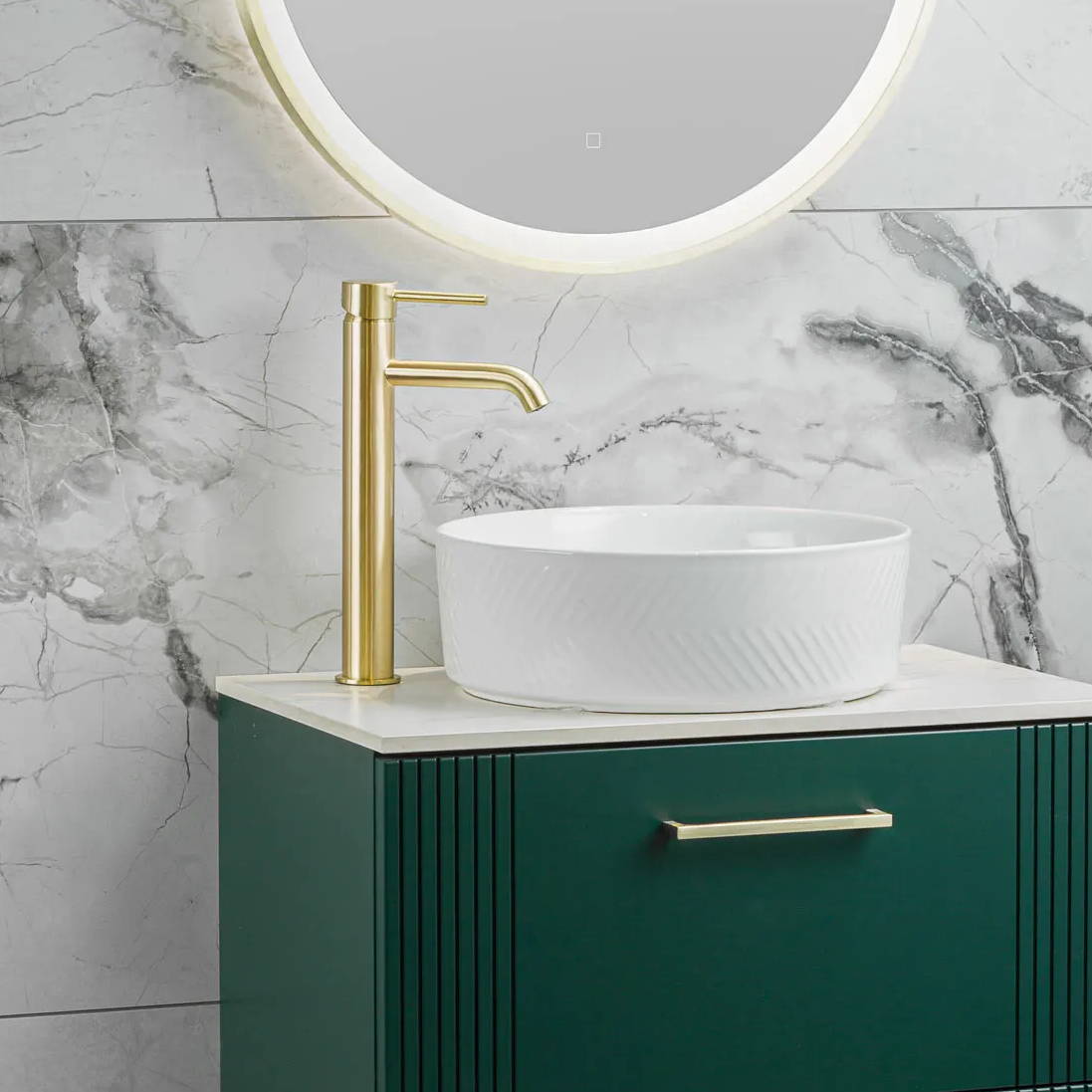 In combination with splashes of color such as the trend color green or a warm rosé tone, colored textiles such as towels come into their own. And the best part? You can change your accent color at any time! Simply swap out the green towels or the rose-colored carpet for a new color and a whole new atmosphere is created.
Black is back: Matt black is the new chrome!

The color black in particular is the absolute trend in the bathroom in 2022. This applies to sanitary ceramics such as washbasins, bathtubs and toilets as well as bathroom fittings and furniture. Many models are available with a black matt coating.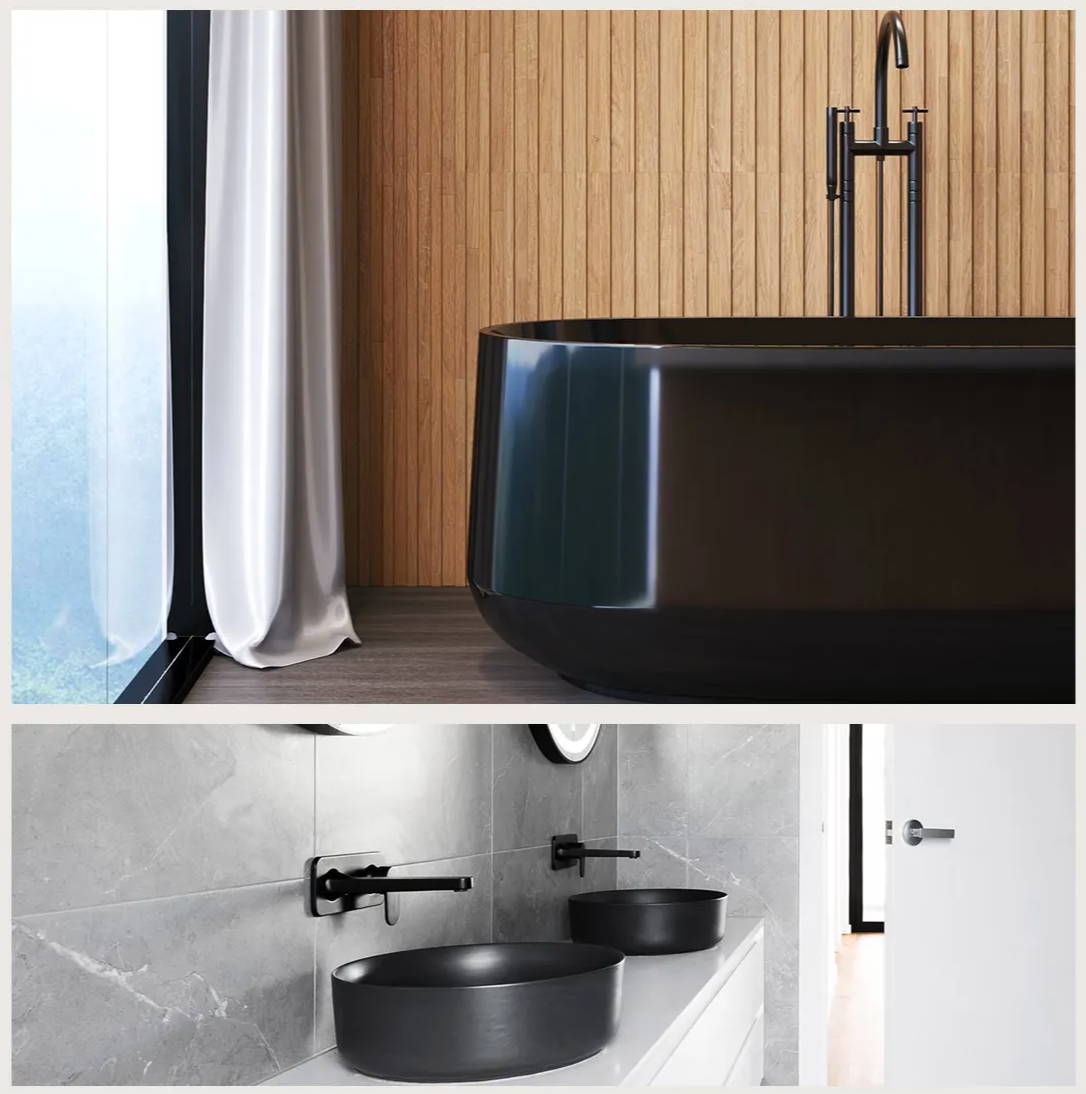 You have the choice between straight types and series with a playful design language. This also applies to accessories such as soap dispensers, toothbrush cups, towel rails and the like. Striking elements such as black handle strips with a frame look are also characteristic of the industrial design.
Black and white metal furniture brings clarity and calm

If you like things clear and calm, a black and white bathroom is just the thing for you. Black metal and steel can be easily combined with the basic color white in the form of bathroom fittings and bathroom accessories. Small details are enough to give the style of the bathroom a new direction. In addition to smaller elements, black bathroom metal furniture, for example, is also a real eye-catcher in a plain white bathroom.
TUALI & TOWEL RAIL NALI | METAL BOOTH
Industrial look in black or white

The black CAELO mirror by Metallbude combines industrial design with minimalism and a little Scandinavian vibe. With its rounded edges, the black mirror sets a clear accent in the room and still looks subtle and soft. For an inverted combination, the wall mirror is also available in white if your bathroom walls are designed in the black base tone. The black metal booth DELAYA towel stand or the ESTINIA towel ladder go well with this . The two towel holders are also available in white. They come with handy S-shaped hooks for hanging various bathroom essentials. This is how you create a tidy and calm atmosphere. The simple, angular shapes of the black or white metal rods offer space for towels on washbasins, in front of the shower or over the bath. The stylish TUALI toilet paper holder and the SHEA shower shelf in combination with black or white fittings from the same series complete the industrial look.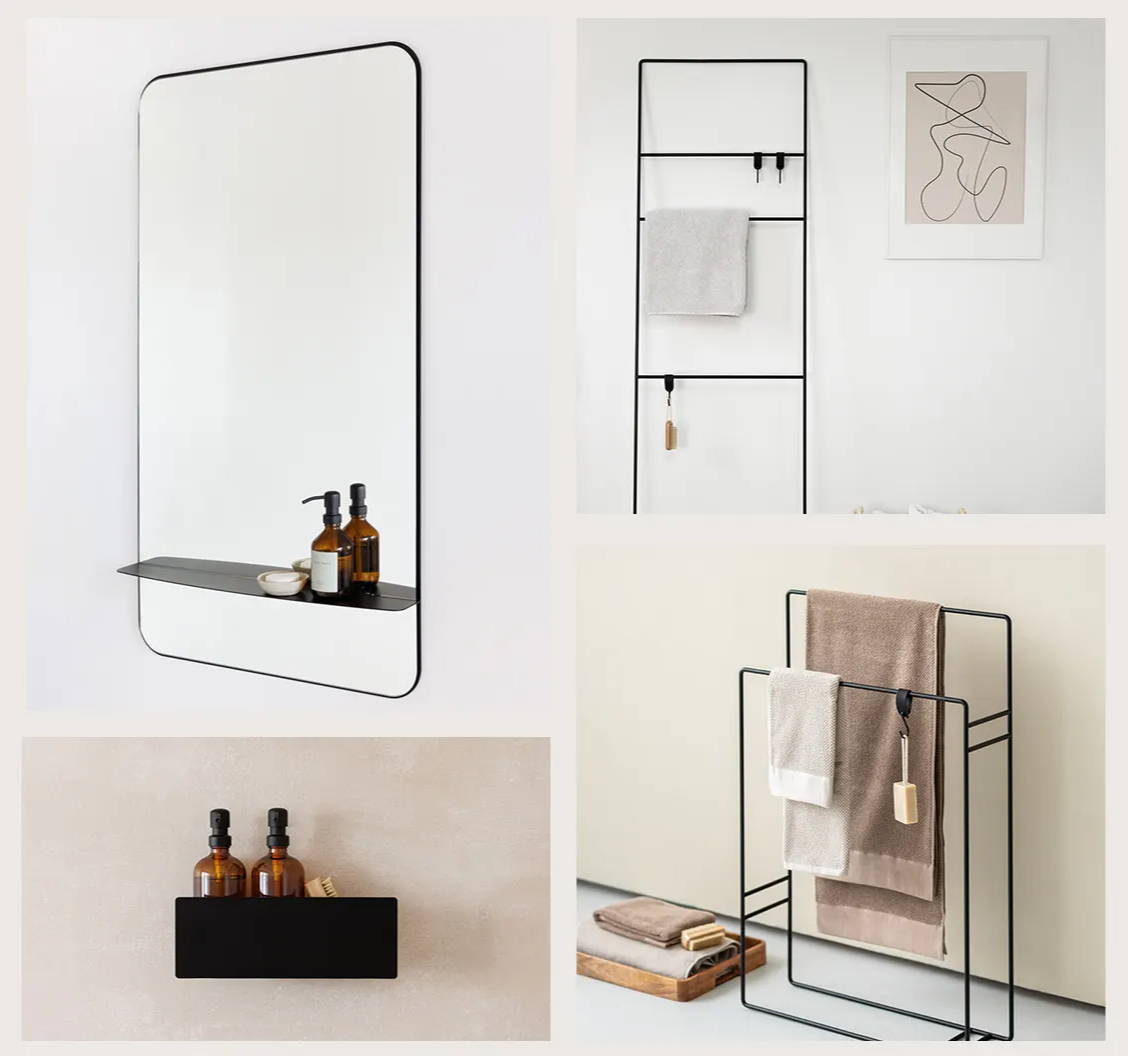 CALEO, ESTINA, SHEA, DELAYA | METAL BOOTH
Black and white combination

Metal furniture in the contrasting bathroom ensures clear structures. You can also emphasize the classic black and white look by combining it with natural materials such as wood. Wood gives the clean look a cozy touch. Warm wood tones such as light beech or spruce are just as suitable for this as reddish chestnut or maple. Small free-standing shelves or vanity units made of metal with wood make the black and white picture homely.
Elements in silver and gold, on the other hand, give the room a noble touch. Vases, wall lamps or even toothbrush mugs or bathroom fittings in gold or silver are suitable here. The glamorous gold and silver go well with black and white, but be careful: less is more!
If gold and silver are too showy for you, you can also switch to copper, which is more subtle but just as rich in accents. Stainless steel is also a perfect addition to a black and white interior and can be easily integrated into the bathroom - for example in the form of stainless steel bathroom fittings or stainless steel bathroom accessories.
Whether small or large bathroom: there is a suitable black and white look for every bathroom. With black accents on white you create clear lines, white elements on black bring elegance and warmth into your bathroom. Both combinations are trending this year and will turn your bathroom into a feel-good paradise. You can find suitable products for your bathroom in black and white at Metallbude .
---