Contrasting program of colors – ideas for your living room in black and white

Light and shadow, bright and dark or shiny and matt – the "non-colours" black and white couldn't be more contrasting and that's exactly why they go so well together. A living room in black and white is very popular and there are reasons for that. In this article we will tell you what black and white living rooms look like, what needs to be considered when designing, which materials, wall colors and color combinations go well with black and white living rooms and which suitable furniture you can find at Metallbude for a black and white oasis of well-being.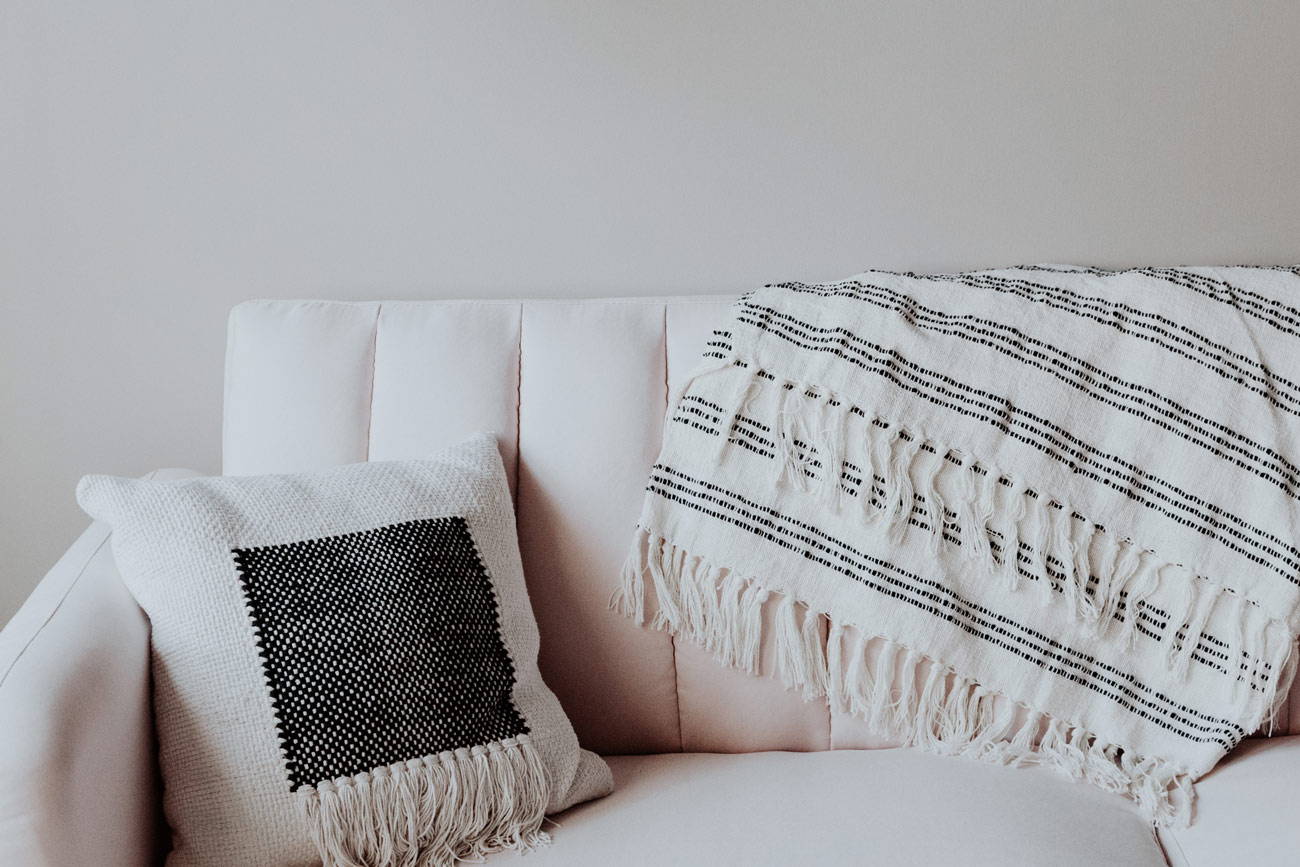 Eye-catcher or harmonious interaction - different effects of living rooms in black and white

The special thing about the combination of the non-colors black and white is that, depending on how they are used, they can appear completely different and still always go together. The color black is not even a real color from a scientific point of view, yet it is one of the most popular and at the same time one of the most controversial colors, especially in interior design. It appears dark, mysterious and absorbs light. White, on the other hand, is often used in interior design and is a welcome feature. The color appears clear, airy, inviting and reflective. In combination, the effect of the two non-colours only increases.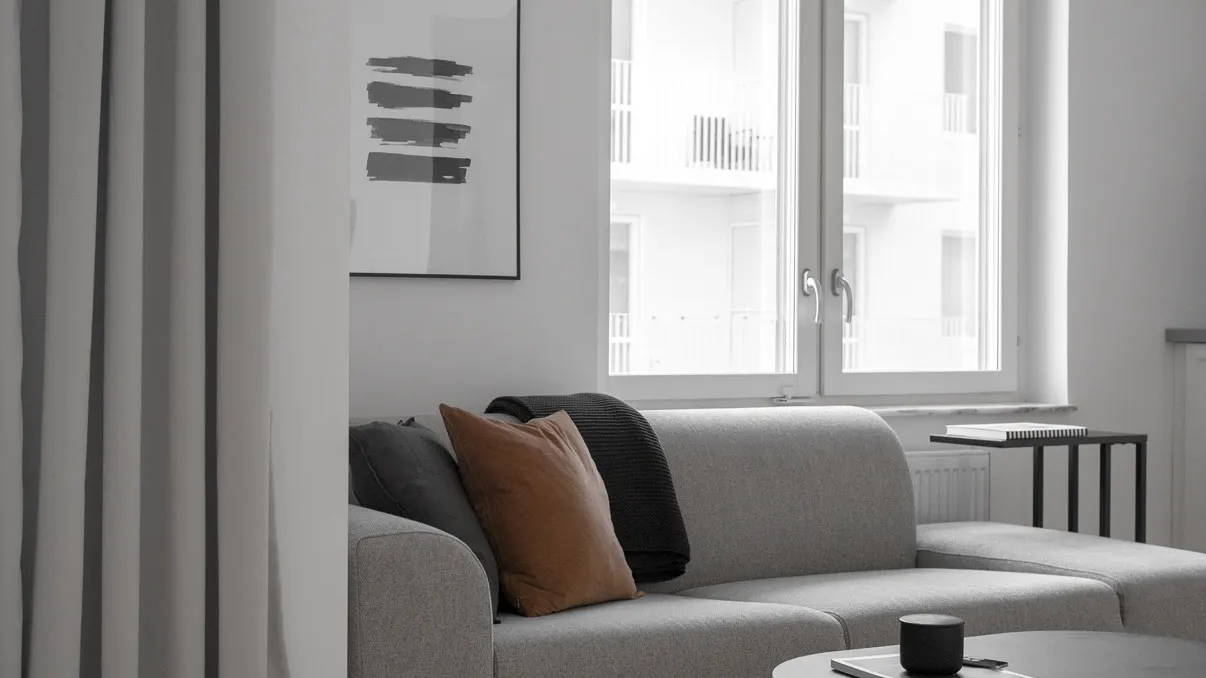 An interior in black and white can be comfortable, classic, as well as elegant and stylish. Although the colors are very easy to combine individually, they are considered a daring color combination. We advise a good balance here, so that the furniture complements the color of the walls. With white walls, black furniture makes a great contrast. Black decoration, on the other hand, shines in bright rooms. Black walls are a special case, to which we devote a section below.
Living room in black and white - what to consider when designing

Anyone who has the courage to furnish their living room in timeless black and white should consider which of the two non-colors should be the more dominant. We always recommend going for the lighter colour, in this case white, for smaller rooms. Here the larger furniture, such as the sofa, should be kept predominantly in white. Set black accents with the decoration or with smaller pieces of furniture, such as a black metal side table or black metal wall shelves as well as home accessories such as table lamps, pictures or carpets. This creates a clean and cool look.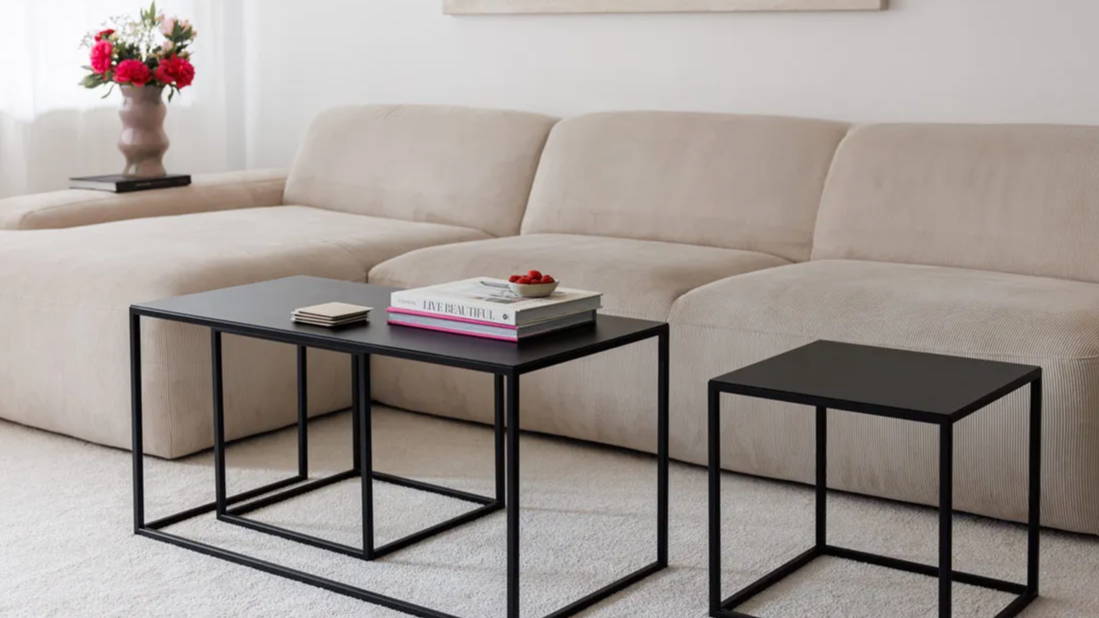 TABLE SET TRE SEMNIA X | METAL BOOTH
Upholstered sofas and fluffy carpets also add to the coziness. In large modern living rooms, larger furniture can also be used in black or you can experiment with a black wall. These are very trendy at the moment. Regardless of whether you want to set up your living room in a more minimalistic way, prefer the Scandi style or the industrial style , the non-colors black and white can be integrated into almost any furnishing style.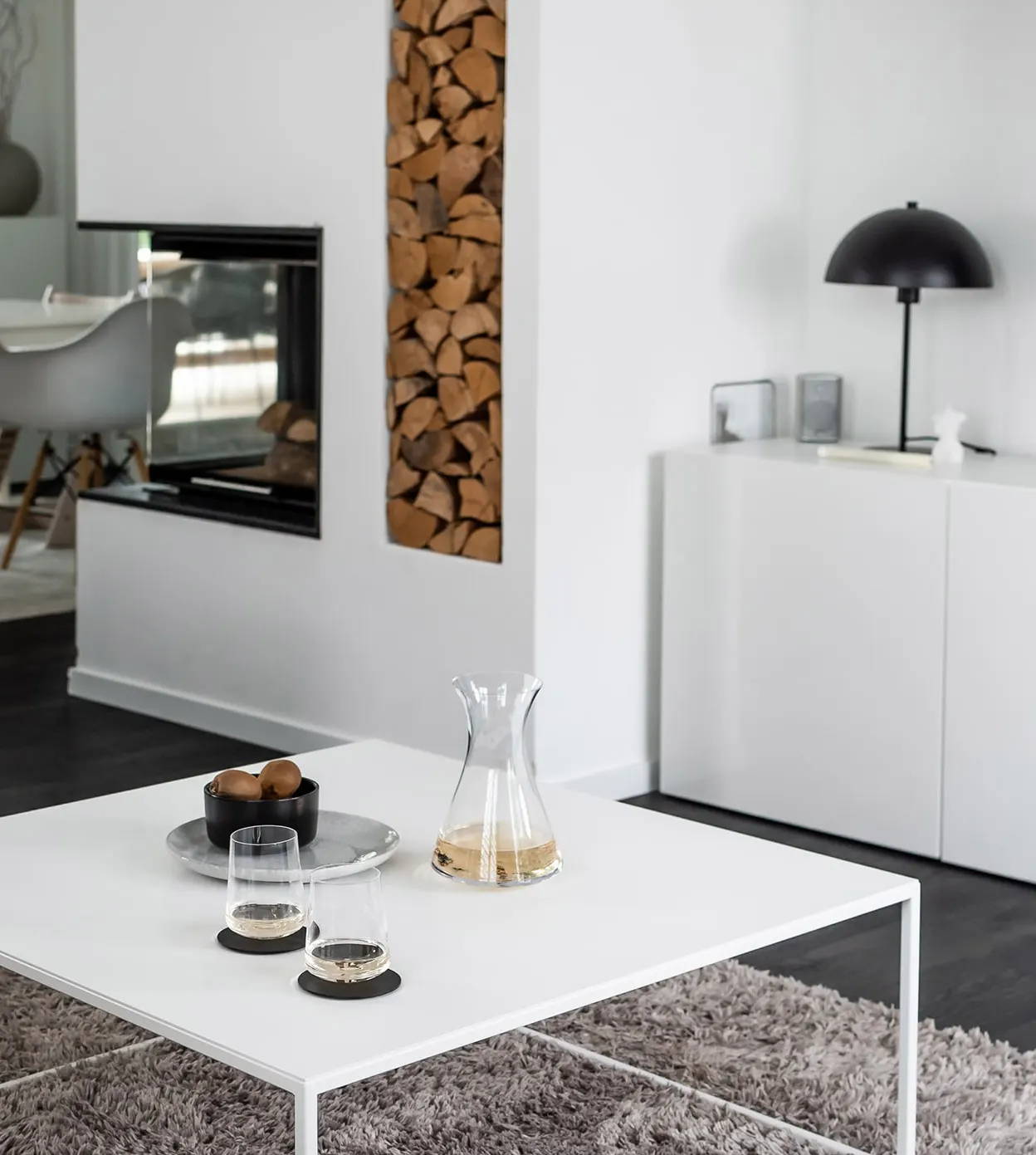 COFFEE TABLE DEVANA X | METAL BOOTH
Living trend 2022: Black wall color - matching furnishings and stylish design

The living trends of 2022 definitely include dark wall colors. The following should be considered when furnishing a living room with the wall color black:
• Less is more: It is often not necessary to paint the entire wall black, part of the wall or a niche is enough for a great contrast. Leave a border of about 5 centimeters in white, this underlines the effect.
• Rooms flooded with light: Since the color black absorbs a lot of light and can make the room appear smaller, it should only be used in large rooms flooded with light.
• Combine the right furniture: Never leave a black wall empty. In combination with wall accessories such as pictures, wall decorations or shelves in a contrasting color, for example white, you curb the dominance of the wall. Larger furniture, such as a white sofa, can also look very good in front of the wall.
• Dare to try patterns: If a completely black wall is too much for you, you can fall back on patterns. Checkered, speckled, striped or dotted - everything is allowed. This looks lively and better emphasizes the contrast of the two non-colors. The furnishings can also contain patterns, for example on carpets and cushions or through structured surfaces.
Living room in black and white combined with solid wood

To take the austerity out of a living room furnished in black and white and to optically warm up the cool look, we recommend using furniture made of solid wood. Light wood types in particular warm up the room and give it a cozy feel. Solid wood can be used, for example, in the form of side tables, coffee tables or shelves. Decoration and lamps can also contain wooden elements. It is important to always choose the same shade of wood so as not to bring too much unrest into your living room. In general, you can also play with other natural textures. In addition to wood, these include raffia, basket, metal, glass and stone.
TABLE SET TRE SEMNIA | METAL BOOTH
Matching color combinations for your black and white living room

Colors should be used discreetly, if at all. The following colors can stylishly complement black and white living rooms:
• Gray : Gray is not overly intrusive and compatible with many colors, including non-colors black and white. Gray accessories complement a black and white living room well.
• Pink : Powder tones or pastel tones such as pink can appear feminine and harmonious. Use them discreetly in the form of textiles, such as cushions or carpets, as well as pictures and other decorations.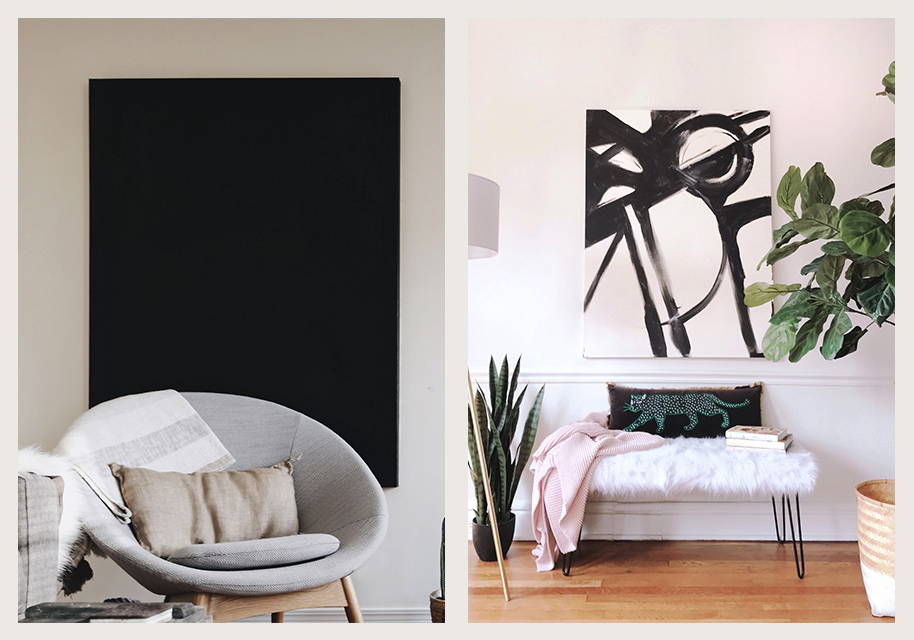 • Mustard Yellow: Yellow is a powerful signal color. If you value bright accents, this is the place for you. Put furniture in this color and you create an eye-catcher in your living room.
• Gold and silver : These colors perfectly complement and refine a black and white living room. They are best used in the form of metallic vases, picture frames and similar decorations.
• Green : If you want to bring in more naturalness, opt for the color green. You don't even have to use furniture or wall paints here. Green plants or even an entire wall garden look particularly lively.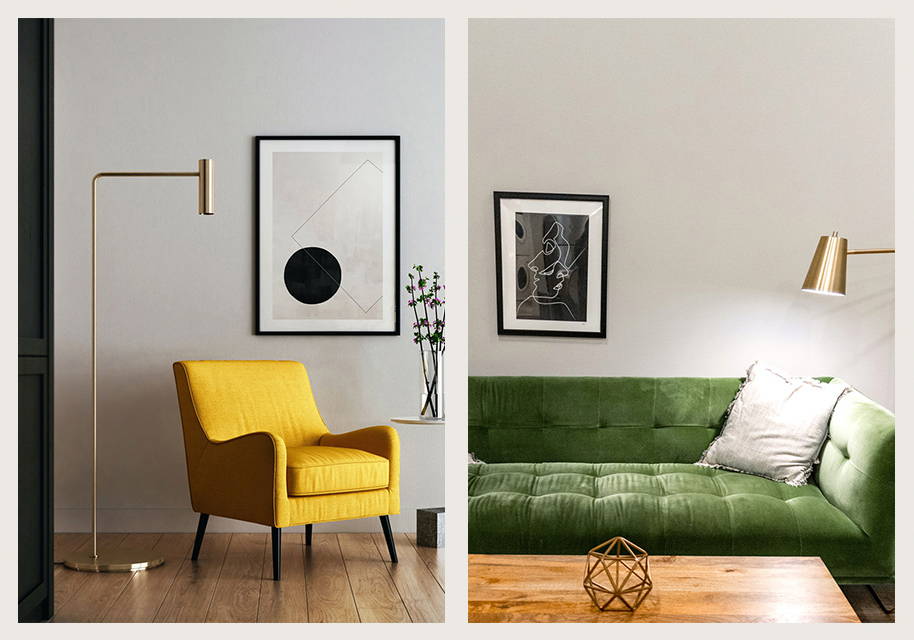 Decoration and furniture for your living room in black and white from Metallbude

Black and white living rooms are very trendy and offer many styling options. The contrast looks elegant, timeless and still classic. Textiles, patterns and natural materials such as wood can also be used to make them cozy and homely. You can find the right equipment for your living room in black and white at Metallbude. Discover a wide range of furniture, such as coffee and side tables, wall shelves, mirrors, lamps and a large selection of other metal home accessories.
Order furniture in black and white from Metallbude now!
---