MAI TAI - summer time is cocktail time
Summer can be heralded with cocktails. Bring the holiday home with the Californian cocktail Mai Tai and furniture designs that expand your home bar. With us you will also get the best care tips if one or the other cocktail glass tips over on your table .
Imagine you are sitting on a modern bar chair made of metal and wood and sipping your rum cocktail between palm trees in the evening sun. Or you can sit in a chic bar with low, black metal tables and enjoy your drink with friends in the comfort of an armchair. Whether coffee table, side table or bar stool - at Metallbude you will find a selection of furniture that will also enrich your bar at home with class and style and put you in the holiday mood .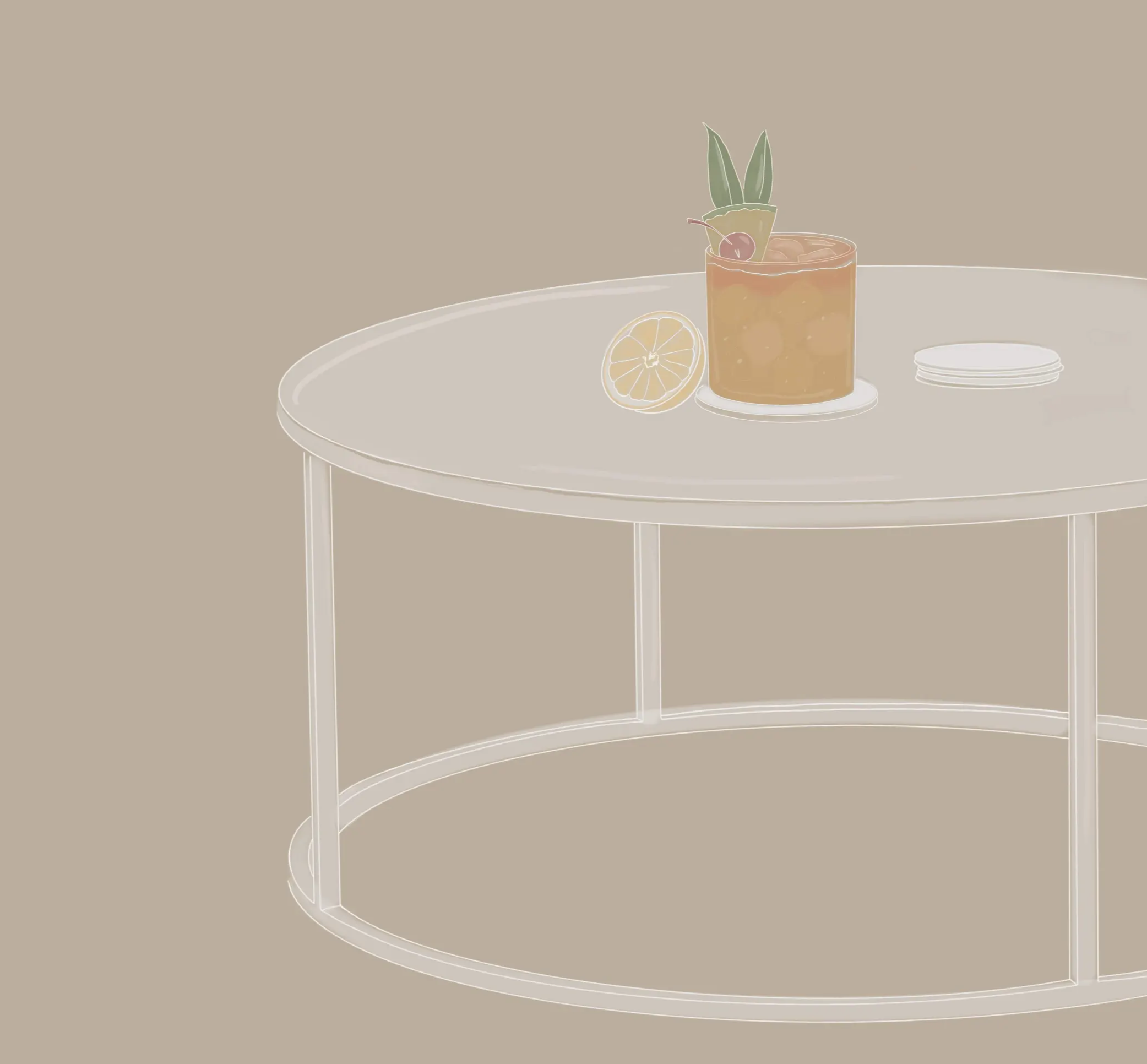 Classic California Rum Cocktail - Recipe ⌄
MAI TAI recipe
6cl brown sugar
2cl orange liqueur
1cl sugar syrup
1cl almond syrup
5cl pineapple juice
5 pieces of lime
---
The best care tips for your coffee table after a cocktail evening
Naturally oiled wooden surfaces – care for solid wood
A dry cotton cloth is used for daily cleaning and care of naturally oiled wooden surfaces. For simple soiling, the wood and metal coffee table can simply be wiped with a damp cloth . Heavier soiling and fat deposits can be removed with lukewarm soapy water .
Then dry well with an absorbent cloth to avoid water damage. But here, too, an oiled table proves to be resilient and easy to touch up if you follow the correct application instructions.  
Natural means to care for a solid wood table:
A wood surface treated with oil can be sanded and resealed any number of times, in contrast to painted surfaces. Coffee tables VESINA and DEVANA, table set TRE SEMNIA or side table SOLI from Metallbude also score with their high-quality oak wood top, as hardwood has a high impact resistance and surface hardness. So nothing stands in the way of everyday use and to make daily cleaning easier, the coasters from Metallbude can be used. The felt pads make them particularly gentle on the wood and the high-quality sheet steel surface does not absorb any liquids and can be easily wiped off without leaving any traces.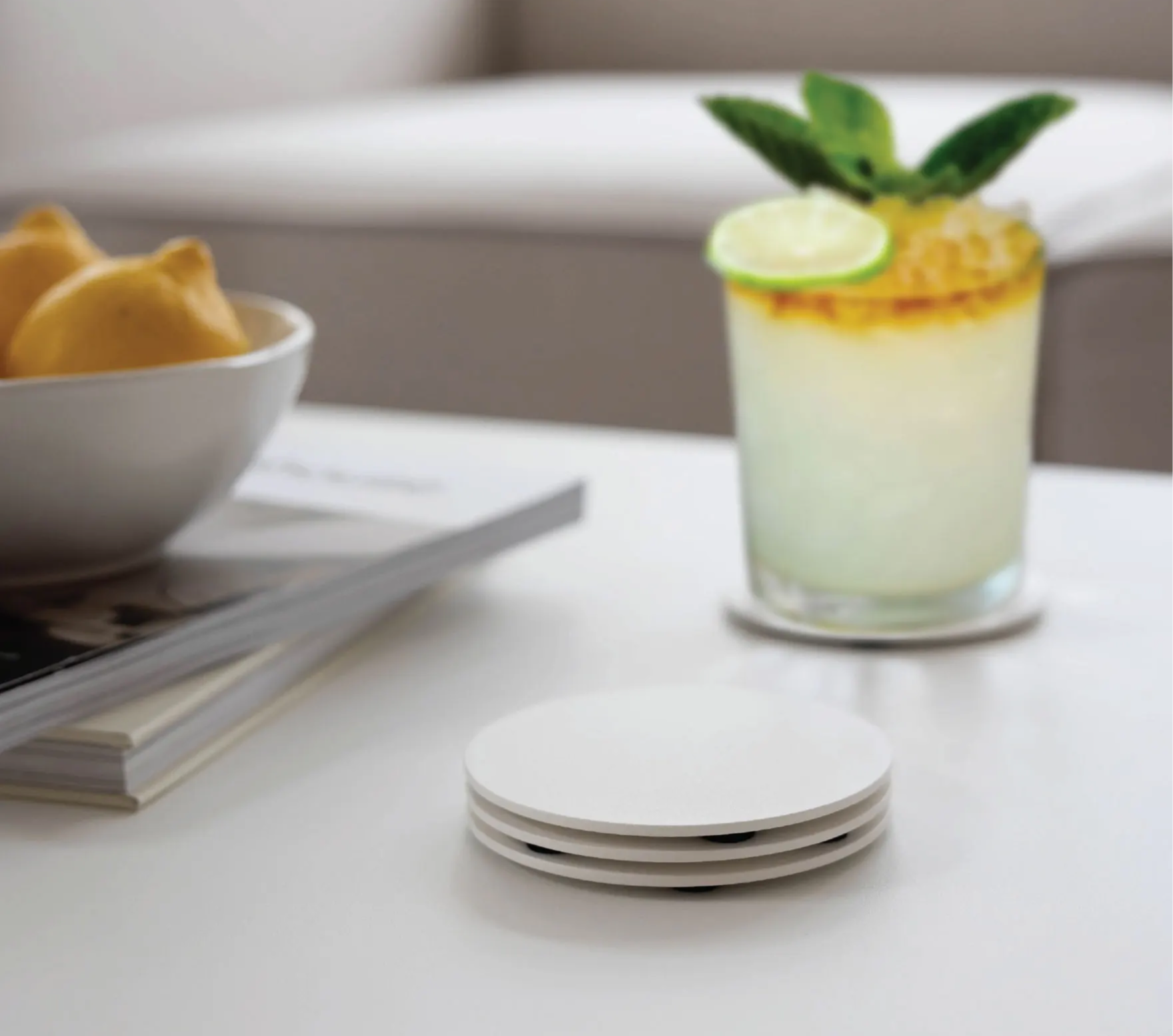 Powder Coated Finishes - Maintain Metal
Regular wiping is the best way to maintain powder coated surfaces in the first place. To do this, simply mix lukewarm water with a PH -neutral cleaning agent that does not contain any abrasive agents. Dirt can be easily removed with a soft cloth or sponge. Glass cleaners with a PH value of 5 or 8 can be used without hesitation. Small areas of damage can be touched up with a touch-up pen.
There are special paint sticks for powder paint. Powder coatings can also be easily touched up with acrylic paint from a spray can as well as 2K paints or synthetic resin paints. In everyday use, however, a table with a powder coating proves to be resistant to scratches and easy to clean when liquids are spilled. Metallbude offers some tables with a powder-coated fine structure surface, such as the VESINA X and DEVANA X coffee tables, the TRE SEMNIA X table set and the SOLI X side table.
Harsh cleaning agents or solutions with the following ingredients must not be used under any circumstances:  
- Ketones (e.g. acetone) 
- Abrasives or polishes 
- Chlorinated hydrocarbons 
- esters (nitro or other thinners and acids) 
---