Furnishing style industrial style

Furnishing experts are still arguing about the exact moment when the industrial style was born. Some say it was celebrated in the UK and US as early as the 1940s, others say it was invented in the 1980s in trendy New York's SoHo neighborhood. One thing is certain: the industrial style found its origins in old, disused warehouses and factory buildings that were converted into living space. The style is characterized by rough, unfinished walls, ceilings and floors, angular, minimalist and straight-line furniture that exudes a more masculine look, and materials such as metal, wood, concrete and glass. Exposed brick walls and pipes are also typical of the industrial look. With the industrial style, functionality is in the foreground, but the nostalgic elements combined with modern influences ensure a unique charm. In this article you will find out which features particularly characterize the industrial style and how you can best integrate them into your own home, even if you do not live in a loft or an apartment with 4 meter high ceilings.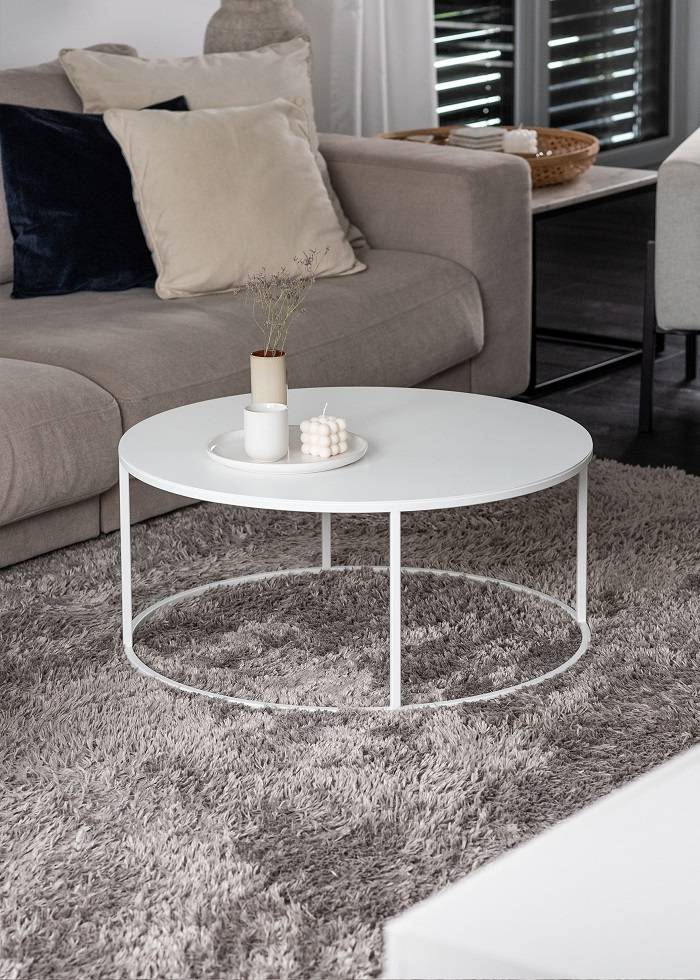 COFFEE TABLE VESINA X | METAL BOOTH
Typical materials in the industrial style: metal and wood elements

The materials used play a crucial role in creating the perfect factory look. Metals such as steel, brass, aluminum or iron should never be missing here. They can be found, for example, in the form of lamps, iron chairs and stools, metal shelves and - characteristic of the industrial style - metal lockers. Metal table frames or coffee tables also complement the industrial style perfectly. Matt finishes or rusty metal are just as much a part of trendy factory chic. It is important that the materials speak a rough, cool or unfinished material language. In combination with the contrasting and rather warmer material wood, the factory look is harmonious. Untreated wood with the patina of yesteryear, cracks and roughened surfaces are a must. Furniture such as shelves, solid wood tables, coffee tables made of wood and metal are a great addition to the industrial look. Wooden pallets and wine crates, which were assembled into cool pieces of furniture on their own, make the mix of soft and hard materials perfect.
Typical furniture in the industrial style - straight and austere

Materials such as wood, metal and glass are most common in industrial style furniture. Significant signs of wear such as patina, scratches, peeling paint and dents are not an acceptable evil, but a must. The use of old and new furniture as well as the improvised and misused use of this is also welcome in the industrial look. The industrial-style furnishings follow a clear design and are rather reduced, a few selected statement pieces fill the room and leave a certain space that is also present in factories. Our inspirations for the industrial style would be:
Sofas and armchairs: one thing should not be missing in industrial chic: chunky and harsh leather sofas and armchairs! These create comfort and warmth in the otherwise harsh factory environment. The striking leather suite can become an eye-catcher and loosen up the atmosphere.
Lights: Impressive industrial lights, photo lights or pendant lights, which hang from the ceiling on loose cables and are equipped with large light bulbs, provide the right lighting. Floor lamps and large black lampshades are elegant and rustic. Warm white light ensures cosiness.
Tables and chairs: A dining table made of pure solid wood or with a metal substructure fits perfectly with the factory charm and becomes a real eye-catcher. Combined with weathered metal chairs, height-adjustable swivel stools or old school chairs, the dining room is complete. Chairs with fabric covers in colorful pastel shades also complement the dining room set perfectly.
Shelves, sideboards and coffee tables: robust metal shelves or filing cabinets, lockers and containers with a vintage look should not be missing. They can also be converted into metal coffee tables and sideboards. If you would rather buy a new coffee table, the coffee table VESINA X or DEVANA X from Metallbude could be interesting.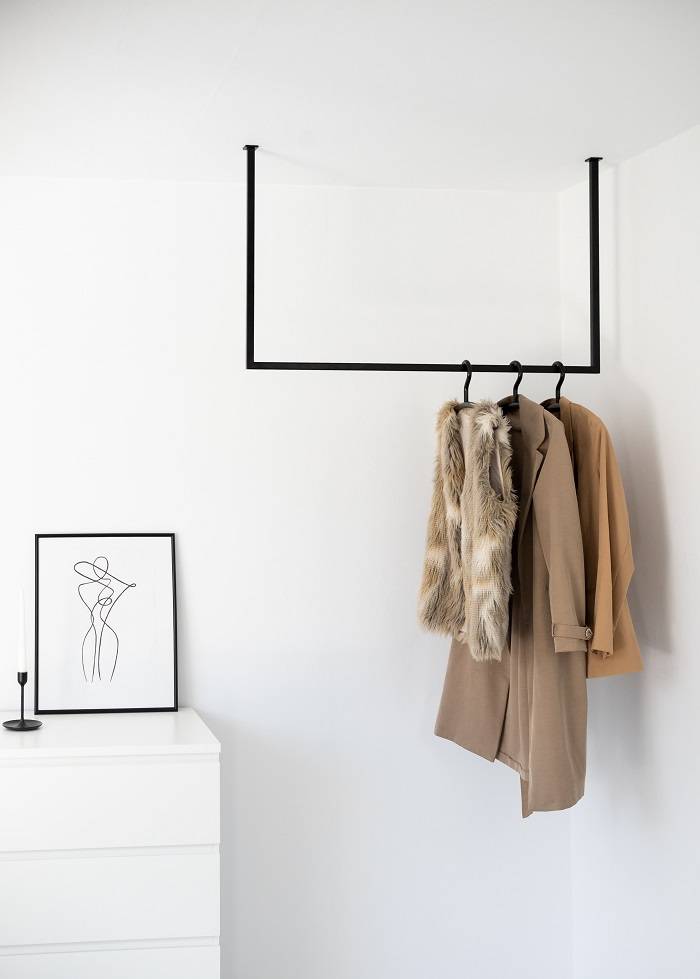 CLOTHES RAIL RUBI | METAL BOOTH
This is how you decorate in an industrial style

Since industrial-style furniture is often made of hard and rough materials, you should use softer materials for the decoration. The industrial style thrives on contrasts such as rustic and elegant, cool and warm and hard and soft. Match the decorative items to the existing furniture. You will not only find one or the other decorative treasure at furnishing experts such as Metallbude, but maybe also at flea markets. Here are a few ideas:
Home accessories such as bowls or flower pots in a concrete look or made of metal, as well as vases, filigree glasses and light bulbs in warm brown tones fit perfectly into the factory ambience.
Cozy textiles, such as decorative cushions and blankets in bold colours, light linen curtains and vintage carpets and skins look cozy and soft and thus form the perfect contrast to the industrial atmosphere.
Metal clothes rails or towel racks are great

metal furniture for an industrial-style bathroom

.
Large mirrors and posters ensure a comfortable room climate on the walls.
Other vintage treasures such as neon signs, gear wheels or tin signs can become trendy eye-catchers on the wall. Wire mesh or cast iron elements also fit into the factory look.
Industrial-style walls: Concrete look and bare brick walls

If you don't have a solid hardwood floor, huge factory windows, and high ceilings with exposed pipes, you can also bring the industrial style into your home with concrete-look walls or exposed brick walls. Although they are not present in every apartment, they can be imitated very well with wallpaper or certain wiping techniques. If that is still too complex for you, you should use wall colors such as metal gray or rusty brown. An open floor plan design of the kitchen, dining room, living room and bedroom, which merge seamlessly, also reinforces the factory look.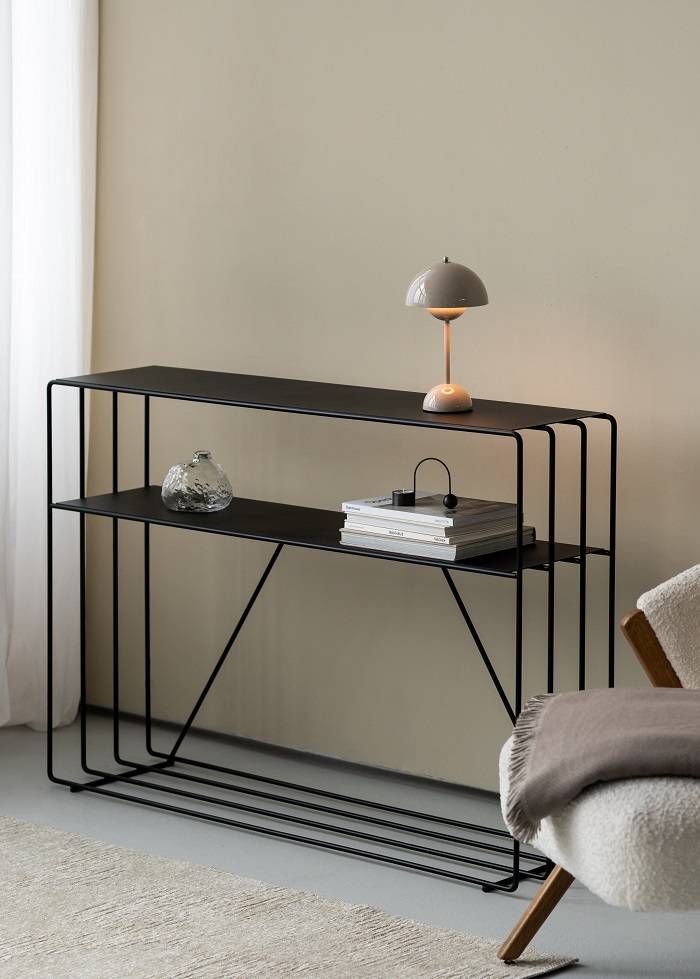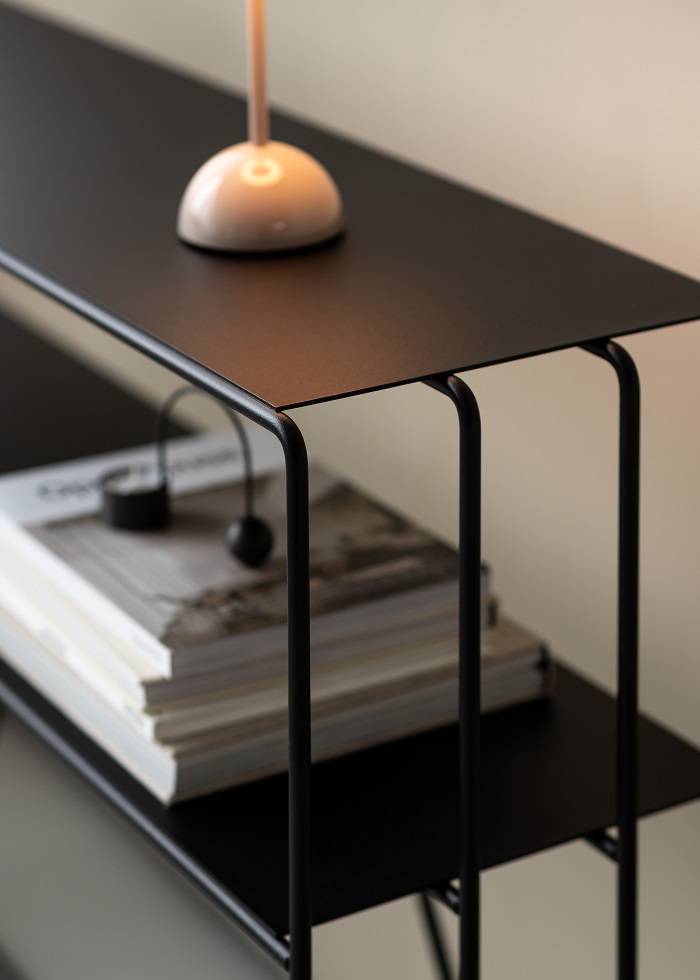 CONSOLE TABLE RIA | METAL BOOTH
Colors to match the industrial style: earth tones

It doesn't matter whether you just furnish your living room in industrial style or want to see the whole apartment in industrial chic straight away, the be-all and end-all is the color scheme. Focused on muted and earthy tones for a harmonious industrial atmosphere. Colors such as dark brown, black, grey, beige or taupe are the most subtle tones here. But rusty brown, rusty red or muted shades of orange also go well with the industrial style. Just be careful here that it doesn't get too gaudy by only using these colors on smaller walls.
Implementation of the industrial style in smaller apartments

You don't have to own a large loft for the industrial look, even in smaller apartments it can be easily implemented with a few tips:
Metal tables, chairs or shelves made of metal as well as industrial lamps immediately bring this rough factory atmosphere into your four walls and are available everywhere in a wide variety of designs.
Leather sofas and armchairs not only make your apartment comfortable, they stand for a masculine and extravagant ambience.
Decorations made of concrete and special individual pieces also enhance your apartment. Maybe you will find an old tin sign or a neon sign that you like and that refines your apartment.
Vintage carpets or cowhide make the industrial style more comfortable and homely.
Paint in muted colors, wallpaper your wall with brick wallpaper, or opt for a concrete look constructed using a wiping technique.
Discover other suitable furniture for your industrial-style apartment at Metallbude .
---