Setting up a small bedroom – the best tricks

Furnishing a small bedroom often has its pitfalls, because above all it should be practical and comfortable. Here you can find great ideas on how to create a lot of storage space in a small bedroom and make the most of it.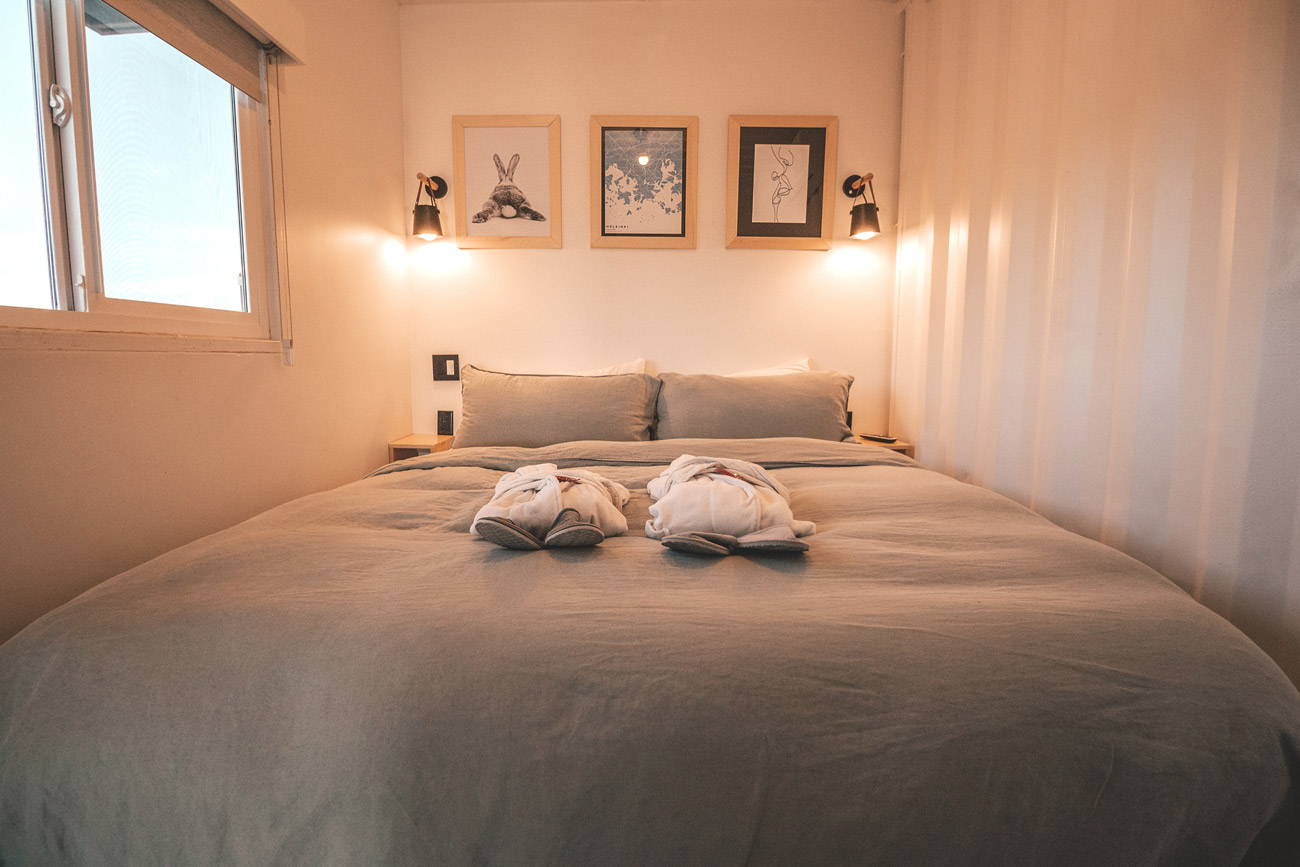 Find a consistent decor style for a small bedroom

Uniform furnishings ensure more order and a larger-looking room. Furnishings in black and white can make the room appear larger, tidier and more elegant. Keep your bedroom in light colors and only accentuate with dark colors, as dark wall murals narrow the bedroom and make it look even smaller.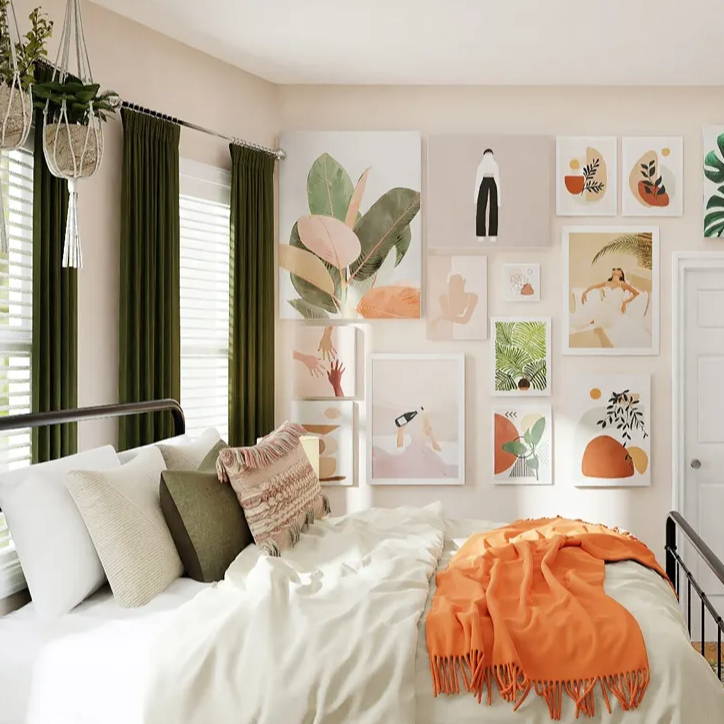 If you prefer other colors, it is advisable to design the bedroom in a color family, since too many different colors bring unrest into the room and make the room appear smaller.
The right bed for a small bedroom

The smallest room in the apartment is usually used as a bedroom. Therefore, every little bit of space should be used sensibly. Loft beds , which are not only found in children's rooms, are ideal for this. In order to be able to enjoy all the advantages of a loft bed, the ceiling in the bedroom should be high enough to have enough space under the bed, but also between the ceiling and the mattress.
If a loft bed doesn't appeal to you, you have the option of installing a wall -folding bed , also known as a Murphy bed. This is particularly suitable for long rooms and offers a space-saving facility. The box, which is fixed to the wall, hides the bed surface and offers a freely usable area. A sofa bed that has a fold-out lying surface also has the same effect.
An upholstered bed usually has a bed box in which the storage space can be used very well. Blankets, pillows, but also clothing, books and many other small items can be stowed away. To ensure that the contents and the bed always stay fresh, you should air your bed box regularly by folding up the lying surface for a few hours.
You also have the option of creating a lot of storage space in the bedroom with a bed with storage compartments. These are equipped with storage compartments and spacious drawers in which a lot can be stored.
In addition, many retailers offer beds in different special sizes - suitable for every bedroom. So just a few centimeters can't put a spanner in the works.
Small bedroom with no wardrobe

Since one cannot do without the bed in the bedroom, it makes sense to outsource the wardrobe, which usually takes up a lot of space.
There is usually an alternative for your wardrobe in the living room or in another room in your apartment - provided there is enough space. A little tip: Choose the look of your wardrobe so that it fits in with the rest of the furnishing style of the room and does not have a bedroom look. Other alternatives are storage rooms or closets in the hallway to free a small bedroom from bulky wardrobes.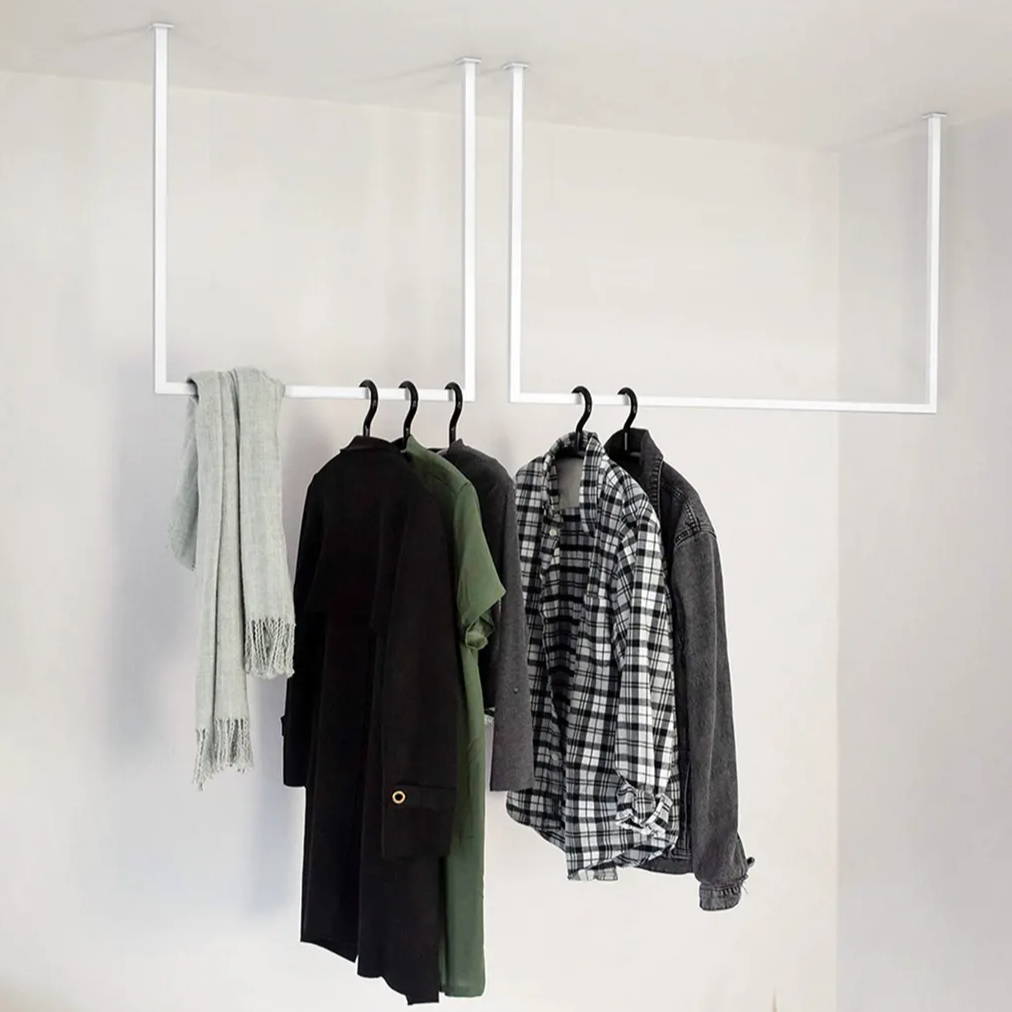 CLOTHES RAIL RUBI | METAL BOOTH
If you still value other furniture in the bedroom next to the bed, open and discreet pieces of furniture such as a black metal clothes rail are ideal.
Make a small bedroom look bigger

If you want to visually extend your sleeping space, a piece of furniture at the foot of the bed can help. This not only visually enlarges the bed, but also the room and also creates additional storage space.
If you have sloping ceilings in your bedroom, it is advisable to place the bed in the direction of the transition between the roof and the wall. This makes the room appear less cramped, but still very comfortable.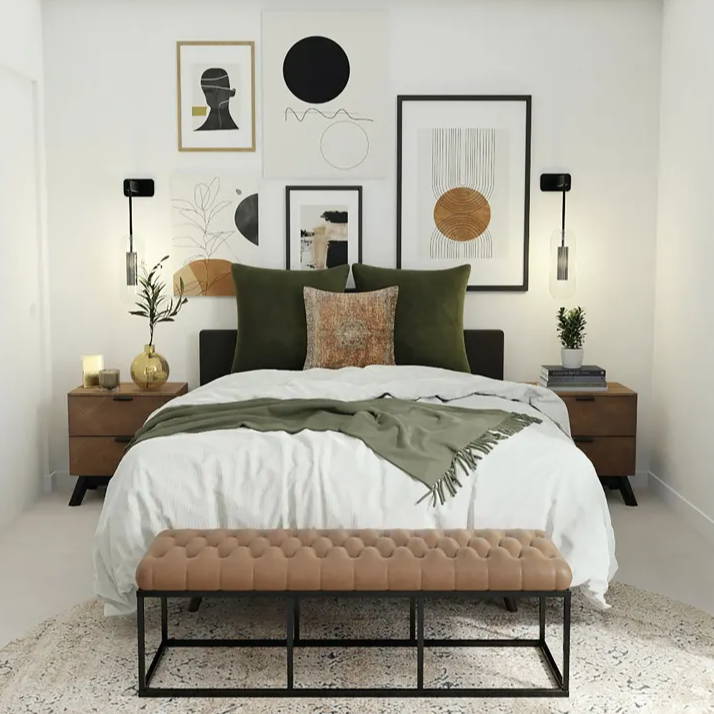 The right decoration can also make the room appear larger and more inviting. For example, a black metal mirror can make a small bedroom feel much more spacious. A side table made of black metal can also give the room some bite. However, you should make sure that there is not too much decoration in the bedroom so that it does not appear crowded.
The right light can make a room feel more comfortable. Filigree LED table or floor lamps make the room look more homely and larger and don't take up much space. If the room is a bit larger, a lighting concept that is based on several light points – such as a ceiling light, a bedside light and possibly other decorative lights, is a good idea.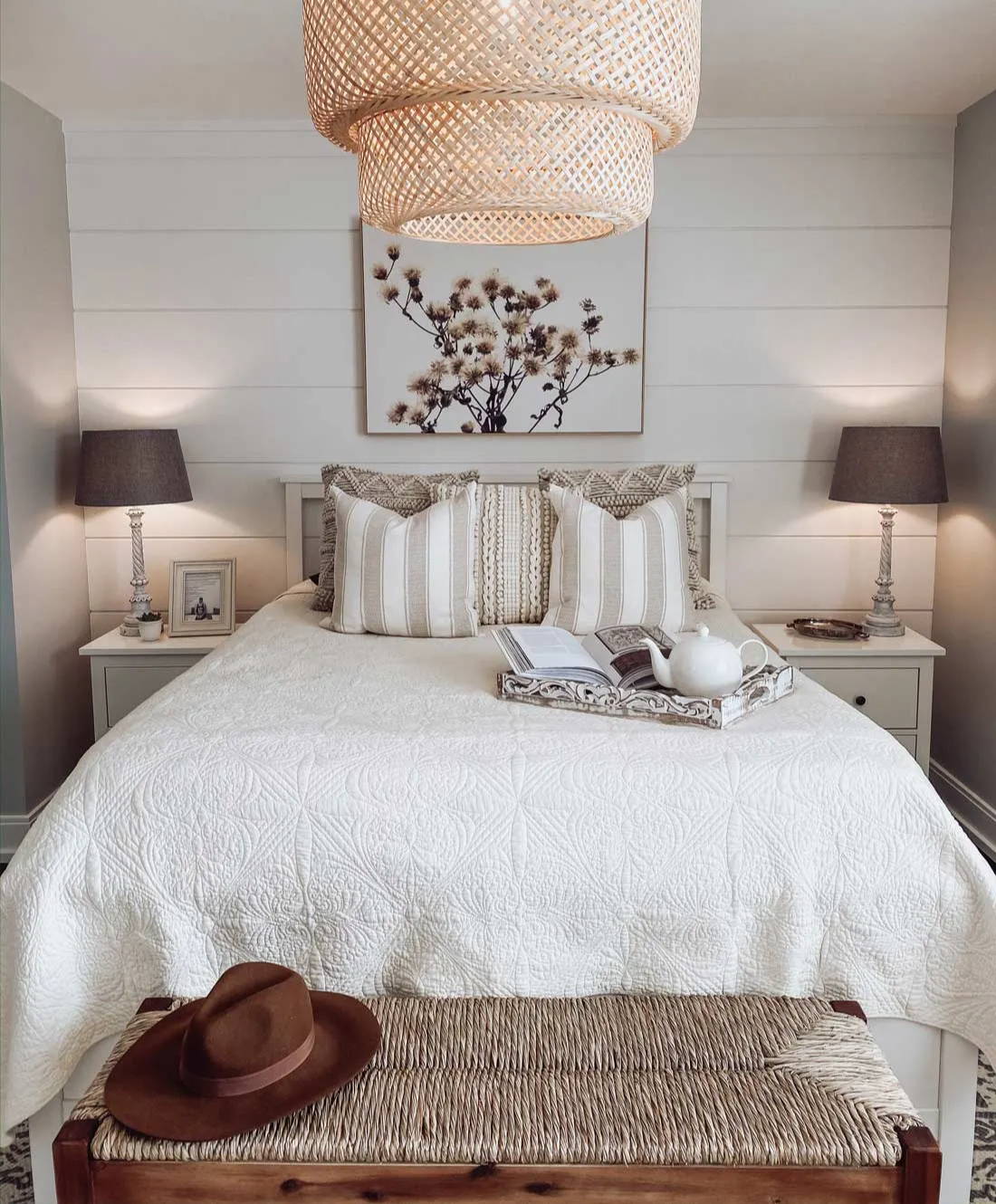 Furnish small rooms in a minimalist way

If your bedroom is very small, you can use minimalist furnishings . Such a facility is limited to the essentials - i.e. the important basics.
With a minimalist interior you have the advantage that you have more space because you deliberately do without unnecessary things. In addition, space-saving furniture that offers enough storage space for the important things is suitable for this furnishing style.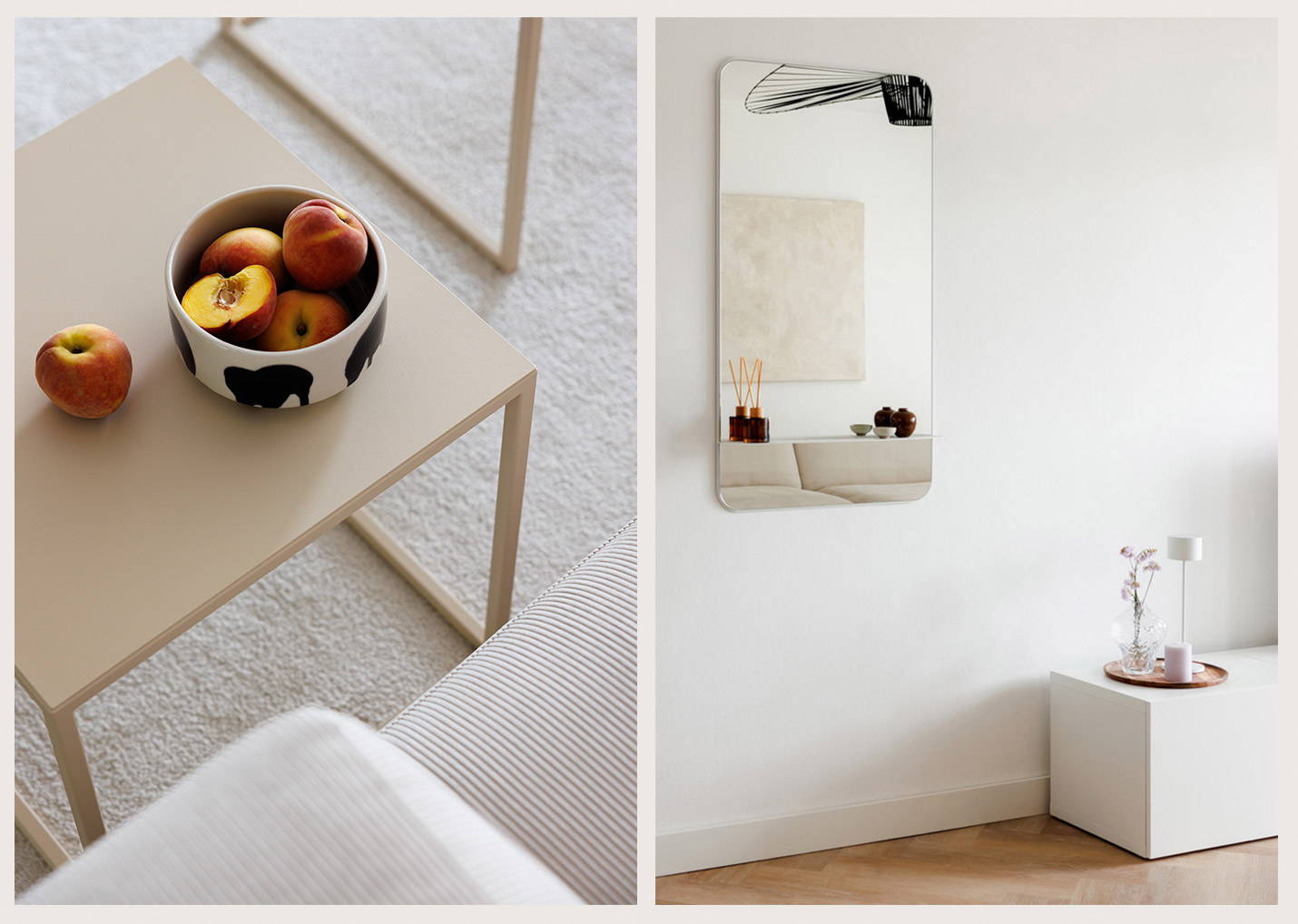 SIDE TABLE SOLI X, MIRROR CALEO | METAL BOOTH
If you are constantly wondering where the time is going, you can at least gain a little time with minimalist furnishings, as the apartment can be tidied up and cleaned more quickly.
The best way to achieve a minimalist interior is to…
... get rid of unused items. If you have neither use nor pleasure in certain objects, you can part with them.
... create more space. Whether furniture or decorative elements - if you get rid of everything unnecessary, the room empties and immediately looks much larger.
… simplify your furnishing style. Simple, functional furniture is light and filigree - or at least looks like side tables made of metal with an airy frame.
… uses the right colors and accessories. A sterile emptiness can be counteracted with a cozy color concept. Calm, earthy or natural colors and pastel shades always fit. But a dark brown furnishing concept or black as a contrast can also be used in minimalism. You can find a combination of nature and wood in the Japandi . Even in bedrooms with wood and metal , this furnishing style looks simple, cozy and by no means sterile and sparse.
... consciously choose decorative elements. First and foremost, they should bring you joy - whether for aesthetic reasons or because they have an emotional value for you. And the motto is always: less is more.
Furnish small bedrooms in a minimalist way

Whether space-saving furniture, a minimalist furnishing style or a bedroom without a wardrobe - a small bedroom offers many possibilities for a cozy interior that can create a lot of space. Discover suitable products for your small bedroom at Metallbude .
---