Furnish small living rooms and make them appear larger with simple tips and tricks

Furnishing small living rooms is tricky because this is where life happens and the space should reflect that. Your living room furniture, the wall and floor design and the use of home accessories are essential for this. We will explain how to get the best out of a small living room in the form of many small tips and tricks. We at Metallbude give you lots of ideas and advice on how to make your small living room look bigger and cozier. Here we go!
WALL MIRROR CALEOI | METAL BOOTH
Optical illusions increase space

There are a few tricks to visually enlarge a small living room:
Use (horizontal) stripes: With carpets or even with the

wall design in the living room

, stripes can stretch the space on the walls and on the floor. Depending on how stripes are used, the living room appears higher or wider.
Choose the right rug: The rug should be at least as wide as the sofa and placed between or under the sofa and coffee table. This forms a unit and makes the area appear larger.
Add mirrors: A mirror will make the room appear wider and also reflect light. This not only makes smaller living rooms appear larger, but also brighter when the mirror is placed near a light source, such as a window.
Important in the small living room: efficient use of space

Especially if the living room is small, the available space should be used wisely: Think upwards and don't just leave niches empty. This is mainly due to high furniture, such as bookshelves, wall shelves or a higher wall unit. You should not waste space and - if possible - place furniture such as cupboards or chests of drawers in niches or in corners that are otherwise difficult to use. This is how you use the space efficiently. Make sure that the wall unit or the shelf is placed on the side and is not the first thing that catches the eye when you come in. Because even if you use the space efficiently, you should keep free areas in smaller living rooms. A minimalist interior in the living room should be expressed both by free spaces on the floor and on the wall. Limit yourself to a few elements on the wall and therefore use one or two large, portrait-format pictures, for example, rather than too many small ones. The floor should also be clearly visible and offer enough free space. When in doubt, less is more here - it's better to have one piece of furniture too few than one too many.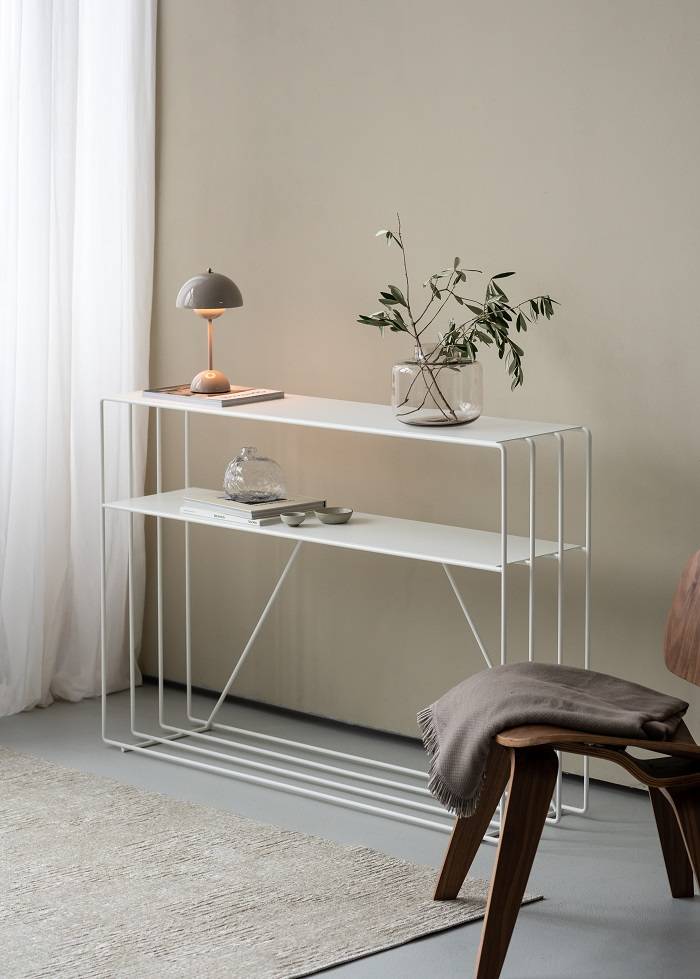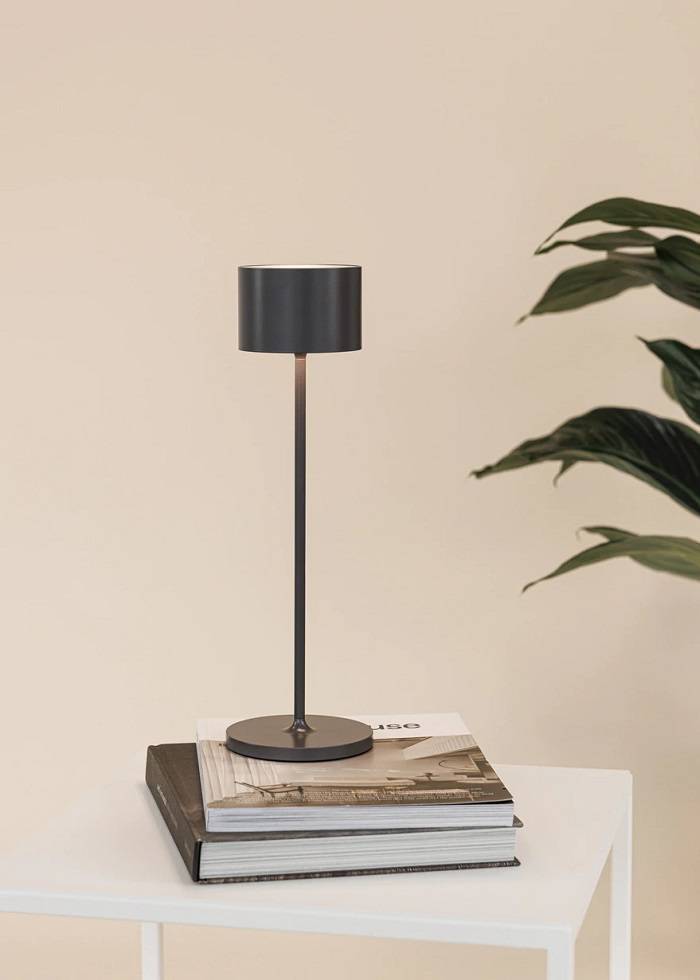 CONSOLE TABLE RIA | METAL BOOTH
LED TABLE LAMP FAROL| METAL BOOTH
Light and brightness for small living rooms

Small living rooms need a lot of light and brightness. Here's how you can use colors and glow to your advantage:
Use light colors on your living room wall, such as white, beige, cream, or a light gray. It looks open and airy and can be combined with almost any furniture.
Complement light colors with natural wood. This looks cozy and offers you the opportunity to conjure up a touch of Japandi style or Scandi style in your living room.
Choose discreet and slim lamp models, for example made of metal, that match your furniture and do not waste space unnecessarily.
Indirect lighting, for example, LED strips that act as backlighting for the TV, a suspended wall or ceiling, visually expand the space and make it cozy. Wall lights or shelf lights can also make the room appear wider with soft, indirect lighting.
Rely on a larger number of light sources. So you can flexibly decide which light you want to use. If you only use one lamp that illuminates a certain point in the living room, the rest will appear darker, which means that the boundaries of the

living area

are not always clear, which can also make it appear larger.
Slim and small furniture as well as multifunctional furniture for small living rooms

Small living rooms need slim and graceful furniture. Make sure that no piece of furniture is too bulky and thus takes up too much space in the room, otherwise your living room will quickly appear cluttered and restless. With small, slim and open furniture, an airy and light impression can be conveyed. For example, use wire chairs, clear plastic chairs, or rattan chairs that you can see through. They optically take up less space and do not block the view through the room. Open coffee or side tables, low sideboards with slim legs and open metal wall shelves also look harmonious in small living rooms and leave enough free space. Console tables are also practical because they offer storage space, do not protrude too far into the room and, depending on the model, can also offer additional storage space through drawers.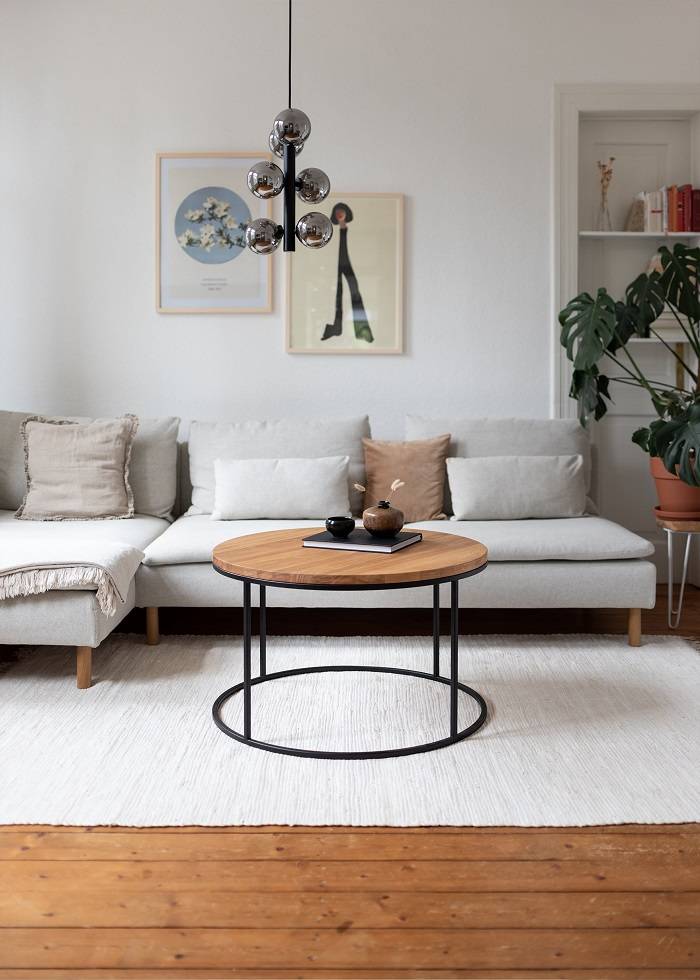 COFFEE TABLE VESINA | METAL BOOTH
The couch as the centerpiece for small living rooms

The sofa is the center of the living room. When choosing the right sofa, however, you should consider a few things. A slender sofa with filigree feet and space between the floor and the couch looks airy. In combination with one or two matching stools, space can be created in two ways, because the stools can provide additional seating space, but can also be pushed into corners if they are not needed. If the stools have a storage compartment under the seat, things such as decorative cushions or blankets can be stowed there. Before you order your sofa, you should order fabric samples, because colors and materials often look different online and in combination with your lighting. So make sure you don't accidentally order a gray sofa for a black and white interior. If you want to accent your sofa, make sure you're facing the open side of the sofa from the door. It immediately catches the eye when entering the room and has an inviting effect.
Set up a cozy, small living room - that's how it works!

The living room has to be cozy because this is where we spend most of our waking hours. But even in smaller living rooms, less is more, restraint is rewarded. Concentrate on a few, but purposeful pieces of furniture and decorative items, such as candles, plants, picture frames or pillows. Tip: buy the cover for your throw pillow one size larger and press it in the middle at the top. As a result, the cushions are not too plump and look elegant. Floor-length curtains in light colors also stretch the room and add to the cosiness. Try to avoid overmatching by picking up the basic tones of the furniture when decorating, but combining them with a few colorful accents or slightly converting the colors. Discover suitable furniture and decoration for your small living room at Metallbude!
---